Do you know how awesome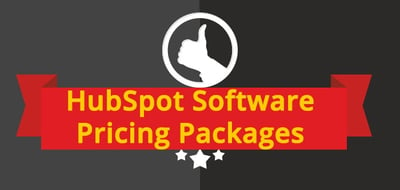 HubSpot is? Well, we do, and we think everyone should. OK, maybe we are a bit biased since we are a certified Gold level agency partner. But, one of the things that makes HubSpot so great is that they have several marketing software packages designed to meet a range of needs and budgets.
Here is a breakdown of the packages and what they offer:
Basic

Best for small businesses and entrepreneurs or anyone just starting out with inbound marketing.

If you need website hosting and increased traffic and leads, this is a good option.

Includes: website hosting, content creation and optimization, email marketing, social media suite, and marketing analytics dashboards.

Includes up to 100 contacts, which are named persons in your marketing database. Additional contact can be added for a fee. Tip: look to you email and CRM databases to estimate your contact need.

For only $200 a month you get significant marketing support including blog and SM assistance, SEO, basic CTAs and landing pages, lead segmentation and more.
Pro
This integrated solution is appropriate for professional marketers.

Ideal for companies who are trying to gain a better understanding of which marketing efforts are the most effective and looking to optimize offers for various buyer stages.

Includes all of the features of the basic package, plus additional analytics, advanced lead management capabilities, lead nurturing, marketing automation, plus salesforce and CRM integrations.

If you are looking to take your marketing to the next level with lead scoring and lead revisiting notifications, this is the package for you.

The $800 monthly fee includes up to 1,000 contacts; add 1000 more for an additional $50 a month.
Enterprise
This package is a great match for larger companies with more advanced marketing and sales needs.

This flexible package allows customization and advanced integration options.
The "big cheese" of marketing packages that includes everything from basic and pro, plus much more: revenue reporting, custom event reporting and automation, A/B Testing, predictive lead scoring, contact and company reporting, event-based segmentation.
Only the enterprise package includes various A/B testing initiatives such as CTA and email.

This advanced option—at $2,400 a month—is for marketing teams with robust budgets.
All Packages Include…
All packages are billed the corresponding monthly fee on an annual basis, which must be paid up-front. All three packages include up to 50 users, defined as anyone who uses the software, excluding HubSpot partners, blog authors, and sales reps. Pro and Enterprise package allow you to customize user role and access for increased security.
To ensure you are getting the most of your package, HubSpot offers training to get you and your team up to speed quickly. Plus, they offer consulting services, so you get one-on-one attention and guidance. Training, consulting, and setup required additional fees, and each package requires a one-time onboarding fee—$600, $3000, and $5000, respectively. Keep reading for more information on services.
And, because HubSpot is awesome (like we told you), you can even try a free 30-day trial of their marketing software! Want to know why we like them so much? Read how we are like peanut butter and jelly!