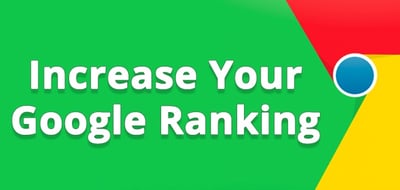 Although there have been many articles and blogs devoted to it, Google's algorithm can seem a bit like a mystery. And while the search giant does update the algorithm regularly, there are some easy ways to increase your google ranking.
1. Blogging
We are always stating how important content is, and nowhere is that more critical than your blog. Google (and other search engines) love fresh content and blogs are an ideal place to continually post new, valuable content. Whenever a search is performed, Google pulls the pages with the newest, most relevant stuff. "By blogging, you build relationships with your readers, position yourself as an expert in the field, and perhaps most importantly, provide new content for Google to index" (Business 2 Community). Don't forget guest blogging on other sites for increased exposure and backlinks.
2. Backlinks
We recently wrote an entire post on the importance of backlinks. The quality of your backlinks greatly affects your SEO and SERP. Google's algorithm gathers and uses information, including the volume and relevance of backlinks—other pages that link to your site—to help increase your page rank. Build backlinks organically, through content and relationship-building, over time for best results; never pay for backlinks.
3. Keywords
So, keywords are not the be-all end-all search engine ranking tool that they once were, but they are still important. Keywords have evolved, and cramming is not going to help you since smarter SEO requires that keywords be relevant and accurately represent quality content. The latest trend is to use long-form or long-tail keywords, which represent the longer phrases that people tends to use when they search. Example: instead of "inbound marketing," try "inbound marketing for increased sales."
4. Site Pages
The more pages your website has, the higher your ranking will be since Google uses spiders and bots to crawl websites. If you have a single (or few) page site content can easily get stale making it difficult to get backlinks. Generally speaking, more robust, content-filled pages will improve search results and increase your ranking.
Here are some stats from a Discover Your Customers blog regarding page numbers and search ranking:
Businesses with 31–40 landing pages get 7x more leads than those with 1-5 landing pages.
Businesses with >40 landing pages get 12x more leads.
57% of companies have acquired a customer through their blog.
Although there is no standard number of pages a site should contain, every page should serve a purpose since any page has the potential to be landed on from a query.
5. Images
When focusing on content don't just think about words—images not only add visual appeal, they also help with your page ranking. If you have images on your site, always use alternative text descriptions, known as alt tags.
Alt tags are critical on web pages because they allow search engines to locate your page. Alt tags should describe what the image is, which is important for SEO and for visually impaired users—alt text is used by screen readers to explain what the image is.
According to Yoast, "Google places a relatively high value on alt texts to determine what is on the image but also to determine the topic of surrounding text." This goes for meta-data and meta-descriptions too.
6. Social Media
Yes, Google can even return social media search results, which is pretty darn cool. So, if you are looking to expand your reach and increase your search ranking, keep your SM pages in good shape. Social media pages are no longer an "add-on," they are integral parts of your marketing and brand strategy. Connect your site and blog to Facebook, Twitter, LinkedIn, Google+, Instagram, and Pinterest to give search engines even more places to find you and increase your rank.
Although search algorithms may seem like enigmas with some research and hard work, you can easily increase your page rank. If you already feel like a Google algorithm expert, blow your mind by reading this post about their latest update, RankBrain.