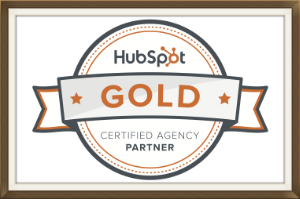 Last you heard, we were celebrating the occasion of becoming a HubSpot Silver Partner. But, now we have even more reason to celebrate – we recently received the HubSpot Gold Certified Agency Partner Certification!

Being a HubSpot Gold Partner means that we've aced the use of HubSpot's software, plus we've proven our ability to consistently delight our clients. Reaching a milestone like this demonstrates our involvement in the inbound marketing industry and our dedication to satisfying our customers' wants and needs. In addition, a Gold Level Agency Partner Certification gives us even more resources to keep helping our clients!

This achievement is due partly to all our hard work, but it's also due to HubSpot's amazing platform. It's such an incredible marketing tool that we recommend it to all of our clients – and they agree! HubSpot makes it much easier to generate and nurture leads, create CTAs, manage a blog, and generally do all things inbound.

The inbound methodology is proven to work, and we've proven that we know how to make it work for our clients. Being HubSpot certified and reaching Gold Partner status means that we know our stuff when it comes to inbound. And, it shows that we're committed above all to keeping our customers happy!

If you want to learn more about inbound marketing and how it can help you, we at Responsive Inbound Marketing are here to help! Click here to get a free inbound assessment!