HubSpot Onboarding, Inbound Marketing Strategy + Implementation
RhythmInfluence: 5X ROI target with first campaign
Like many other businesses, RhythmInfluence found themselves facing a big problem when the COVID-19 pandemic hit - they were unable to get on a plane and fly across the country to meet with various prospects and clients. The team had been doing that for more than a decade, which contributed to a large portion of their business, so when that was no longer an option, things got a little scary. Because they were then forced to sit back and re-think how they were going to hit their target, RhythmInfluence quickly realized they struggled with building awareness within their industry and organization. After many conversations, they realized they wanted to achieve two goals over the next year: 1) migrate out of SalesForce and into HubSpot (CRM + Website) and 2) develop a sophisticated content marketing strategy to generate leads.
After a demo of HubSpot, there was no turning back.
$1+ mill
Revenue Increase
We started the campaign with one target and that was surpassed very quickly shortly after the promotion started.
400%
Increase in Conversions
Their audience was thirsty for the valuable information RhythmInfluence was creating.
6+
New Projects
Within the first couple of months that the campaign was promoted.
Since 2010, RhythmInfluence has supported influencer marketing efforts for large, well-known brands through strategy and planning, influencer management, content creation workflow, analytics, amplification, and reporting and measurement. Having been in the industry himself for more than 20 years, Vice President & Managing Director John Babcock frequently met with clients and leads face-to-face, and it's those in-person meetings that brought in the majority of the business.
Once the COVID-19 pandemic hit, however, John and the RhythmInfluence team were no longer able to jump on a plane and fly across the country as they so easily had done and instead needed to rely on generating leads virtually.
John turned to Responsive Inbound Marketing (RIM) after discovering them more than two years earlier as a HubSpot Partner and downloading one of their resources. After a couple of conversations with Lindsey, John knew this was exactly what the team needed.
Struggling to Build Online Visibility
RhythmInfluence was struggling with online visibility, which was even more obvious during the pandemic because everything was online. The challenge, they didn't have a marketing team to manage or create the content that they needed to build that visibility.
After deciding they should switch their CRM to be one that was more robust, John compared various platforms to the one they were using at the time and knew that HubSpot was the way to go. In addition to the marketing tools, he loved the ability to automate his own sales emails — a feature that really attracted him, as he wanted to streamline booking sales meetings and sending RFPs. Once John received the green light from his team about the approved budget to switch to HubSpot and hire an agency that could help them make it happen, he reached back out to RIM to set up a call about moving forward with the project.
By partnering with RIM, John discovered that RhythmInfluence could not only be using a better CRM for managing communications and leads but also create content that generated new business and continued to position the company as a thought leader in the influencer marketing industry.
Changing CRMs and Developing a Content Marketing Strategy
RIM worked with RhythmInfluence to transfer their customer and lead base onto HubSpot and migrate their website to the marketing automation tool. Once it was confirmed that RhythmInfluence's website and CRM were ready to capture leads, it was time to actually attract those leads through content marketing.
To make that happen, John and Lindsey Framer, CEO and President of RIM, developed a plan that involved implementing SEO best practices and creating content in the form of Whitepapers, Pillar Pages, and blog posts.
The first offer that was created for RhythmInfluence was their "Guide To Influencer Marketing Analytics" whitepaper, which was selected as a topic for them as it vastly sets them apart from their competition. RhythmInfluence has built many advanced measurement partnerships, and brands often want to know all kinds of interesting analytics to determine their ROI measure, so they created a 10-page PDF to share all the ways you could, and should, be measuring influencer marketing.
The results of this white paper? RhythmInfluence set up numerous meetings with agencies who wanted to learn more about their approach to analytics and even put their advanced measurement contact and Director, Sales Strategy David Neuman at the forefront to do a national roadshow and consult on this specific topic.
Through these efforts, conversion rates increased in the following areas:
Blog

Email Marketing

Landing Pages

Organic Traffic

Direct Traffic

Social Media
5x ROI Target and 6 New Account Projects
Within just nine months, the results of RhythmInfluence's new inbound marketing strategy exceeded all expectations. They actually had to shut off their email marketing campaign for their new whitepaper because they sold $8 million in revenue in just three months when they sold $8.5 million in revenue total for the entire year before. They couldn't keep up with the leads and meetings being set.
And not only did they get new clients out of their new inbound marketing strategy but they were also seen as thought leaders within the industry. One of their largest agency partners has monthly calls with their internal content marketing group across their four offices to talk about the latest industry trends, and RhythmInfluence's blog posts have surfaced as topics numerous times, giving them a lot of credit for publishing advanced content that many agencies and brands aren't thinking about yet but should be thinking about.
As RhythmInfluence thinks about their plans moving forward, they're excited about how much of an impact their inbound marketing strategy has made in a short amount of time, thanks to partnering with Responsive Inbound Marketing.
About RhythmInfluence
Since 2010 and counting, the RhythmInfluence team helps brands achieve success with their influencer marketing campaigns. We offer marketers and agencies an experienced partner that provides a "white glove" fully-managed service influencer marketing approach — and our clients rely on us for strategy and planning, influencer management, content creation workflow, analytics, amplification, and reporting and measurement. Our commitment to excellence also helped us win the social/influencer category in Adweek's Readers' Choice: Best of Tech Partner Awards in 2020.
Our team is here to partner with you on every aspect of an influencer marketing campaign. This encompasses influencer discovery, influencer on-boarding and contracting, workflow, brand safety, FTC compliance, and much more. We have built out one of the most advanced end-to-end managed service solutions that includes all the heavy lifting in between to ensure performance and deliver influencer marketing ROI.
"With the strategy that Lindsey put together, we generated six new major accounts that were all initial cold leads. They were Toyota, Planned Parenthood, American Heart Association, Coach, Telemundo, and Phillips Lighting."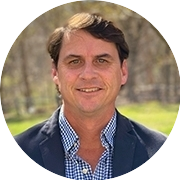 John Babcock
VP & Managing Director