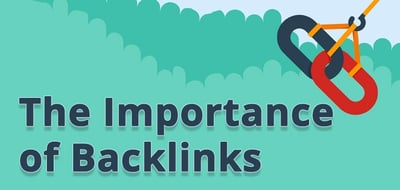 When you are thinking about search engine optimization (SEO), it is important to look at all of the facets that make up a successful strategy—content, keywords, meta tags, and backlinks. While they may sound straightforward, backlinks are essential to SEO.
What Are They
Backlinks—also knowns as inbound or one-way links—are simply links that point to your website from another website. The best part of backlinks is that they help promote your blog or site just by being hyperlinks to you from another source. Easy enough, right? Well, not so fast. When it comes to backlinks, quality matters.
Backlinks and SEO
Backlinks affect your SEO and your SERP (search engine results page) ranking. Search engines use algorithms to gather information and rank pages, and they use bots and spiders to crawl your site for content and backlinks. Search engines aggregate the volume and relevance of all of the pages linking to your site which impacts your page rank. So the better the backlinks, the better your SERP.
Backlink Highs and Lows
When someone is conducting a search in Google, for example, the search engine uses its rankings to deliver the best possible results. When it comes to backlinks, you want links from high-ranking pages as opposed to low-ranking sites. Think of it like a reference: you want a reference from a respected source, not a questionable character since it affects how you are perceived.
"Quality backlinks are links that point to your website from another website with higher page authority than your current site. For SEO purposes, it makes no difference (and can actually hurt you) if the sites linking to you are all small, low-page-rank sites." (Strategy New Media).
Getting the Right Links
Since there are different types of backlinks and various ways to get them, it is important to have a plan in place. Acquiring backlinks doesn't require any technical skills, it is more about networking and relationship building.
The best way to get organic backlinks is through quality content since another site will only ever link to you if you give them a compelling reason to. Here are some ways you can improve your chances:
How to NOT Get Backlinks
One element of gaining backlinks that is critically important—do not use black hat techniques or other unseemly tactics to acquire them. Experts agree that it is better to build them steadily over time, rather than get 100 overnight by purchasing them. These types of scenarios are almost always flagged by Google and other search engines, which will damage your reputation and can get you banned.
"It is always a good practice to get backlinks gradually towards your website than getting a thousand at a time. This helps you to eventually build trust among the search engines and helps in better ranking of your website in the SERPs." (Bloggerstack).
Backlinks are one of the most important elements of the SEO equation. Don't forget to factor them in when looking to boost your ranking and increase your prominence.
SEO expert and consultant Mark Walters of SEOmark sums it up by saying, "Backlinks affect search engine rankings more than anything else. The number and quality of them pointing towards your site will largely determine in what position your site ranks in the search results."
Now that you know the truth about backlinks, what other SEO legends are lurking out there? Find out by downloading this myth-busting guide. The truth is out there…