You might think building an amazing website with great content offers is all you need to be successful, but it isn't. You must also monitor your website and track the type of people who are drawn to it and who is turned off by it. That way, you have the ability to make adjustments or understand if there is something you could be doing better. One of the best ways to do this is by hosting your website with HubSpot. For you to understand why it's worth the money, here are the top 15 benefits: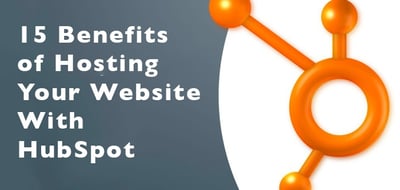 1. Collaborative – You can easily grant your employees access to your website's analytics and upkeep so that delegation is much easier and no one will be left in the dark.
2. Template Builder – Your website will gain a professional's touch by using one of the hundreds, fully customizable website templates they offer.
3. Smart Content Helps you use your website to target specific customer groups so that your content will be presented to the correct audience.
4. Malleable Content Management – You can tailor HubSpot to your type of business, which is especially valuable to businesses who market a wide variety of products/services.
5. Mobile Capabilities/Responsive Design - There's no need to download anything extra or pay any extra amount in order for your website to look good on different devices.
6. Real-Time Preview – This feature allows you to view possible issues, like formatting mishaps, on your page/website before you post it so that you have time to make corrections before anyone sees it.
7. Automatic Updates – There is no need to constantly be updating your settings because HubSpot stays on top of that for you and does so automatically.
8. Contact Database – An organized way to understand and manage your contacts/leads that can all be found in one place.
9. Accurate Analytics – It can be hard to gain a true understanding of the traffic to your page, but HubSpot has extremely accurate analytics that can easily be accessed and understood.
10. Customer Support – They have a team of experts with knowledge specific to your needs and they can easily be contacted via phone or email with limited wait time.
11. Social Media Tracker – You have a constant feed of what is going on with your social media all in your portal so you don't have to always be checking in on your accounts.
12. Buyer Personas – You can build buyer personas in order to understand your customers more and therefore learn how to cater towards them.
13. Keyword Ranking – Track which terms draw in traffic to your content so you can enhance your audience reach.
14. Fast-Loading – Customers abandon websites for competitors due to pages that take too long to load. Since HubSpot has their own CDN, your website will always load quickly for your customers.
15. Strong Security – The security software for HubSpot is kept up to date and all of your information is backed up in multiple places so there is little chance of losing your data or having a security breach.
With these different attributes, HubSpot has created a portal that gives your business the advantage it needs to surpass its competitors. If you then decide that you want access to the advantages that HubSpot gives you, but don't want to manage it, there are people you can hire who specialize in HubSpot and will monitor it for you. For more information on that, click here.
If these 15 reasons aren't enough for you, compare them to what you're dealing with right now and think about how easier and more productive your online business will be just by hosting your website with HubSpot!
For more information, take a look at the new HubSpot launches below: