If you are not yet familiar with the many virtues of HubSpot, it is well past time to learn more about this inbound marketing platform. This industry-leader helps companies of all sizes attract visitors, convert leads, and boost ROI. And, through seamless integration with many popular sales, marketing, promotion, and technology platforms, you can take your campaigns to the next level. Here are 10 of the coolest platforms HubSpot integrates with.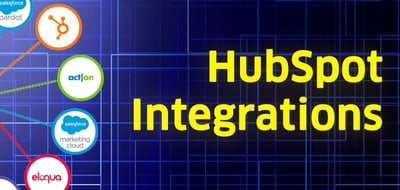 Build and A/B test landing pages, sign-up forms, and other assets for better conversion rates. This integration is excellent for the less tech savvy amongst us since you can still create and use customizable forms, opt-ins, and landing pages without knowing any code. Quick links make it easy to add subscribers to particular lists.
This partnership with the popular blog platform is gold, especially for small businesses or freelancers. HubSpot offers a plug-in that can be integrated right into the WordPress platform allowing users to see all of their analytics in one place. It is available to existing customers and offers a free 30-day trial for new clients.
This fusion moves surveys into the spotlight and incorporates them right into your marketing strategy. It allows you to view responses in your contact database and segment them based on the information gathered. Plus, the service is already available to you if you are HubSpot client with a Survey Monkey account.
With HubSpot integration, it is easy for event promoters to connect with customers offline as well as online. If you host in-person events, this is best way to discover who is attending, nurture event leads, and learn which happenings create the biggest buzz. Add new contacts, track current ones, and see how attendees are engaging with you before and after an event.
If you use HubSpot account and have Unbounce's Pro 99 account, you can take advantage of this robust combination, which offers landing page customization and enables leads to be sent from that page in real time.
One of the biggest sales tools in the industry is even better with a boost from HubSpot. You can sync and stay on top of leads with lead "intelligence" and set tasks to keep you on course. Once it is set up, the HubSpot Salesforce integration runs in the background, connecting your two databases and syncing data bi-directionally.
Since the power of video cannot be underestimated, neither can HubSpot's integration with these video tracking pros. This collaboration lets you segment, score, and nurture leads based on their video viewing. See who is watching and what they are watching so that you can better market to them.
The leading way to integrate your e-commerce platform with HubSpot to collect and leverage customer purchasing data. Automatically (and easily) sync data, segment customers based on purchase history, and generate personalized emails. Groove is a HubSpot Platinum Partner and a Shopify Plus Partner.
GoChime, a Facebook "retargeting" tool let you re-engage with inactive contacts and acquire new ones via the FB newsfeed. This merged tool enables you to run smarter, more effective campaigns, saving money and time.
The Membrain HubSpot partnership brings the sales team into the loop for better "smarketing" alignment. Known for its pipeline management solution, Membrain provides the tools you need for B2B sales and, combined with HubSpot, you can further marry sales and marketing throughout the sales cycle.
As you can see, HubSpot offers many platform opportunities that enable you to kick your sales and marketing up a notch. By taking advantage of (these and other) HubSpot integrations, you can maximize the power of one of the most valuable tools already in your marketing arsenal. Where HubSpot helps you build a winning inbound marketing strategy, using it in collaboration with another platform allows you to add value to your entire sales and marketing program.