By now, you have probably read about the inbound marketing methodology and are familiar with its components and terms like leads, analytics, and buyer personas.
But, as with everything in life, it is important to understand what those terms really mean and how they affect your business. Case in point—sales funnel. It sounds cool and it is fun to say, but do you actually know how to move leads down the funnel and close the deal? Let's take a look.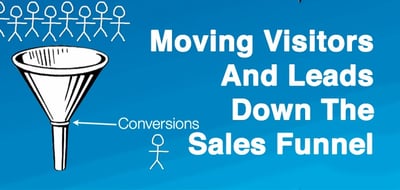 1. Attract Them
The basic tenet of inbound marketing—if you produce quality content, you will attract interested customers. Some of the best ways to draw leads into the funnel are through social media presence and SEO. Remember, SM is about engagement, not just tossing up random posts—listen, ask and answer questions, provide helpful info.
2. Follow Up And Nurture
So, a lead came to your site looking for particular information. They found something helpful, gave you their contact information and downloaded a free article. Awesome! Now what? Follow up! Reaching out to them, nurturing them, making them feel appreciated, and encouraging them to visit your site again with a promotional email are all helpful ways to move visitors down the sales funnel. Not following up on leads can lose you sales.
3. Score Leads
Whoa, people are interested in your product or service…but how interested? Lead scoring is the best way to determine where buyers are on the journey and how to guide them down the funnel. Create buyer personas and cater offers and content to various demographics.
4. Ask For More
Once you have begun building a rapport with your prospects, exchange more information. Instead of just giving away your new e-book use forms wisely to get more information from your leads. And, give more in return—if you ask someone to answer ten questions be sure that you are giving them quality content in exchange.
Note: Obtaining more data links back to flushing out buyer personas and lead scoring. None of these steps live in a vacuum; they are all rungs in the funnel.
5. Convert
Congrats your lead has reached the bottom of the funnel! This means that they are really close to buying and may just need a little more incentive. Use the information that you have gathered and tailor content wisely. If you have leads in the decision stage give them incentives to make the purchase—free shipping or trail period, extended warranty, etc.—use smart offers to close the deal. And, please don't forget to thank them! In order to keep them as a customer, you must continue to build and nurture the relationship.
Now that you have made it through these five steps, you can move visitors and leads down the sales funnel. And you can say sales funnel confidently knowing what it means, how to use it, and how it can boost your bottom line.
For more help understanding inbound terminology and how to use it, download this comprehensive white paper today!