Creating bad buyer personas or none at all is a risk you don't want to take in your marketing efforts. Your buyer personas are essentially the building blocks to a successful marketing campaign and development projects. Therefore, you need to understand why and what causes your buyers to spend their time and money to overcome their challenges or solve their paint points.
Unfortunately, 60-70% of B2B marketers say they don't truly understand their buyers. How do you know who to target in your content marketing? Your blogs? Your social media?
[DOWNLOAD]
That's a problem. If you don't fully know what drives your prospects to make a purchasing decision, you're wasting precious time and money on marketing efforts that don't produce positive results.
5 ways to build actionable

buyer personas
1. Keep your buyer personas timely and relevant
Don't refer to the marketing personas you created a few years ago. In the business world, nothing is more important than staying up-to-date with trends and what's going on. Update your personas if you haven't!
Align your personas with your current goals
You also need to think about whether your business goals have changed since the last time you created your marketing personas. Just like your business, the audience you're trying to reach could be going through transformations and shifts. This will certainly affect the content you need to create and what topics you need to target in your marketing campaigns or business blog.
2. Know which questions to ask
How will you accomplish your goals if you don't even know the ones of your buyer personas? Demographic information is important, but the point of a buyer persona is to know your clients' motivations and interests. Without that, you can't effectively cater to their wants and needs.
Here are some questions to ask when creating buyer personas:
You're in business because you're solving a problem for your target audience. What are their pain points and how do they seek to solve them?

What makes them successful in their professional role?
Which publications or blogs do they read?
How do they use the Internet to research products or search for information?
Read 20 questions to ask when identifying your audience in this helpful article from HubSpot.
3. Focus on information that matters most to your business
Make sure the information that you have is pertinent. Knowing your buyer persona's favorite TV show is extraneous information, and it's unlikely to help you close a sale. Be sure to focus on relevant information that will help you and your business in your marketing efforts.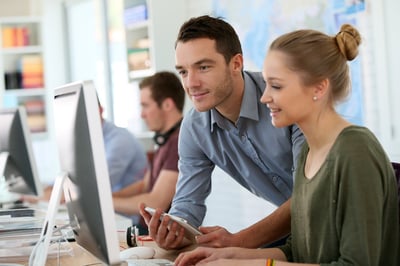 4. Dig deeper into their psyche
Surveys can be useful tools, but when building buyer personas, they leave something to be desired.
Conduct interviews
Buyer personas are meant to give new insight into your customer base, and that can't be done with a multiple-choice survey. That's because you're providing them with the answers. Therefore, you're not allowing them to give you new information.
The best way to build buyer personas is by actually interviewing your clients.
5. Share the information with your team
To get your team on the same page, you need to make the information readily available to them so they can do their best work. But buyer personas aren't just for the marketing team. You need to share them with your whole organization, including sales and product design teams. All team members must be able to access this information from one place if possible.
Targeted Marketing Campaigns Made Easy
An effective buyer persona requires knowledge gained from a lot of research and development. But you'll find it well worth your while. Your buyer personas will lead to better ROI and customer satisfaction overall.
Use our free template to guide you and start connecting with your core customers.