Landing page forms, also referred to as lead generation forms, are one of the most critical pieces of inbound marketing. The quality of marketing forms has a direct impact on the success of your website. So, how can you optimize forms and what information should you ask for in your forms?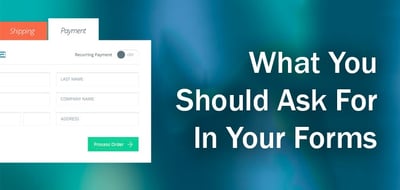 Contact Form Must-Haves
According to HubSpot, forms are "basically the entire point of a landing page—and the entire crux of lead generation". They are the place for marketers to gather quality information from leads. But what information should you be asking for? A basic short form should include the following:
First Name

Last Name

Company

Email

Website

Additional options include: phone number, job role, subject matter, how many employees in your company, are you B2B or B2C, anything else specific to your product or service.
Must-Haves Versus Wants
Now that you know what basic data you can and should be asking for, think about what else you want to know. And, think about how long your form should be. According to research the average number of fields on a form is 10, with the optimal number being seven (Eloqua). While there may be information that you want, you also do not want to turn prospects off with long, complicated forms. Remember, you only have approximately 6 seconds before a reader decides whether to stay on your page or back-click, so don't scare them away with page friction—confusing forms and cumbersome drop down questions.
Essentially, you can really ask for any information that you want; however, considerer what you are really seeking and why you need that data—goals, buyer personas, sales strategies, etc. It is preferable to have 2-3 critical questions (which people are more likely to answer) than 6-7 superfluous questions that could lead to no data at all.
Why Contact You
Think about why someone might be—and should be—contacting you. First of all, you should be asking them to! Including a call to action (CTA) is a straightforward way to collect important information. It can be as simple as "for more information on XYZ" or "to receive our free guide to ABC" simply fill out this form. Some people might naturally go to the "contact us" page and fill out the form for more information, but the CTA allows you to capture data from more prospects.
Another reason why a reader might be contacting you is with a question. Make sure that your website contains smart, relevant content that readers are seeking. People are always going to have questions, and that's OK, but if you are getting the same question(s) repeatedly, it means that some basic content is probably lacking from your site and this is an opportunity for you to improve your content and increase leads.
Remember that the entire purpose of the contact or landing page form is to collect as much valuable data as you can in a straightforward manner. As always, HubSpot, summarizes it so well saying, "…the goal is to collect information to inform your sales and marketing strategies. There is a whole range of information it might make sense to collect, which will help you personalize your content, inform future lead nurturing campaigns, and frame future sales conversations."
If you want to know more about how to up your inbound marketing game, download the free guide below!