We recently explored landing page forms and what type of information you should ask for in your forms. Here, we take a more in-depth look at forms and how they can be beneficial when moving buyers along their journey.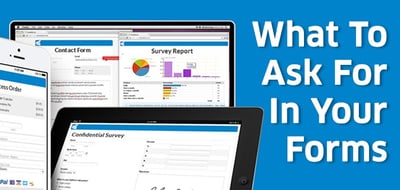 Knowing the Stages
The buyers' journey consists of three stages: awareness, consideration, and decision. It is important to understand where buyers are on the journey before you try to move them down the sales funnel. In your forms, you need to ask relevant questions that encourage buyers, not dissuade them from answering. When it comes to best practices for forms, HubSpot says to "focus on questions that help you segment your contacts for your next phase of marketing."
Forms for Awareness
As a marketer, your job is to create awareness. Buyers in this stage may not yet know your company or product; they are looking for information. At this stage, you should not ask too many detailed questions in your forms. This is where you want to capture data so that you can continue nurturing the lead; don't risk capturing a quality lead with a too-long or too-detailed form. Basics include name and email address and possibly a question about what information they are searching for or their biggest concern/need.
Forms for Consideration
Once you have a name and email address, you can nature this lead and move them to the consideration stage. At this point, buyers have done additional research and narrowed their choices down. And, of course, you want them to pick you. Now, you should ask for more details in your forms, such as specific concern/need, company, and the buyer's job title. Remember to offer helpful, tailored information that the buyer can use (and that subliminally sells your value) in exchange for the data you are requesting.
Forms for Decision
Excellent, your buyer has made it to the decision stage. At this point, you want to qualify the buyer with the questions you ask for in your forms. This is your chance to get any final information you will need to close the sale, including whether or not they are a decision maker or have purchase power, what their budget is, phone number, and any additional geographic data. And, you can get more brand- specific about your products and how they will solve the buyers' problems.
Again, it is important to balance the amount of questions with the need. Also, it is also a good idea to ask the preferred method and time of contact, so you know how to approach them. Although, many buyers still want to be in control. According to a Demand Gen Report, 90 percent of buyers said that when they are ready to buy, they will find you, not the other way around.
Form Etiquette
Remember to think about forms from the perspective of the lead—would you answer those questions in exchange for an e-book or a white paper? Your goal is to ascertain valuable information that you can use to convert leads, so think quality over quantity.
When building forms, it is helpful to include labels to guide readers and sometimes, even placeholder copy, which is typically faded to demonstrate the info you want such as email or web address. Also, there are different types of form fields and drop-down menus that can improve the data you are getting. If you have a question, considered a drop-down menu with 4 or 5 answers choices to make it easier for readers. Other options include radio button select and checkboxes.
Need help getting people to those forms?