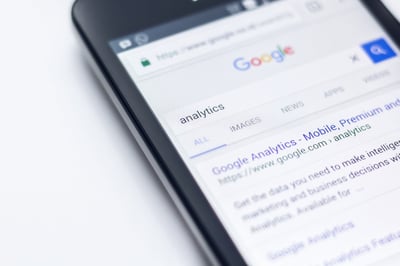 Google recently ran a core ranking algorithm update in August. Yes, another one to add to their hundreds of algorithm changes per year. But this particular update garnered a lot of buzz and left many marketers and SEO pros with more questions than answers. What exactly changed (besides their rankings), who's impacted by this update and to what extent?
[DOWNLOAD]
Google's official (and vague) announcement of the update came without much explanation. See for yourself.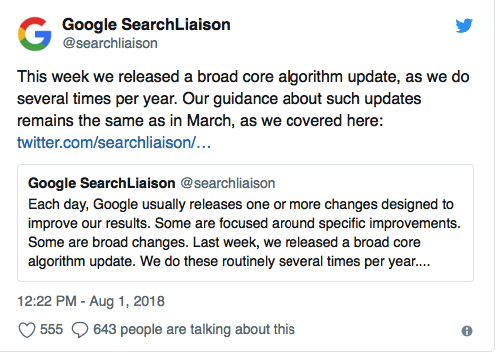 Confused? You're not alone. It's only been a few weeks since the new changes rolled out. We'll shed some light on what you need to know
Let's start with the obvious question first.
What Exactly Is a Core Update?
Google gives names to its algorithm updates, such as Penguin, Panda, Fred, etc, to differentiate the purpose of each update. For example, Penguin targeted link spam. Panda targeted low-quality websites in Google's organic search engine results.

In this case, the Core update is shifting the search rankings of millions of websites across their search results. Google can't confirm what exactly changed, what types of pages have been impacted and how many without giving away the algorithm; hence, the secret sauce. Of course, it isn't as simple as it sounds. What we do know is that the update has benefited some websites, while others will see a noticeable drop in their traffic.

Who Benefited?
Before anything, algorithm updates don't always have something to do with whether a site gains or loses in search rankings. That said, keep in mind that the following list of winners of this update is a snapshot in time.

Who Got Hurt?

Although Google said that the "global" update effects every type of site, it seems to pick on specific niches. In what Search Engine Land is calling the "Medic Update," the update has had a greater impact on health, medical and Your Money Your Life (YMYL) sites, which means they won't perform as well on search results. Does your site fall in these categories?

Read more about what qualifies a YMYL site and Google's strict set of standards here.

For example, SEO software company RankRanger surveyed the medical site draxe.com which lost 65% of its organic visibility as a result of the August update. After further analysis of their site, it was found that their content has a lot of ads pushing the site's products.

Here's a snapshot of the top 20 sites that are on the losing end of this update: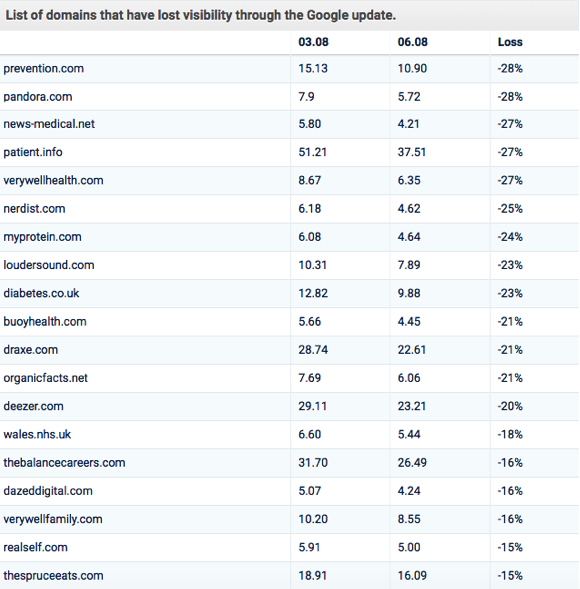 What's the Best Way to Conquer Core Updates?
It's not always easy to maintain strong online visibility and beat the competition. Google certainly doesn't help in this case. But, that's what makes SEO professionals all the more valuable to organizations.
If you're wondering how to avoid getting on Google's bad side, we recommend to keep focusing on these important ranking factors:

Page speed




Quality content

Mobile-responsive design

HTTPS

Google's guidelines
Check out the list of SEO success factors here.
Want to Improve Your Site's Search Rankings?

In the wake of this update, many businesses may need to re-evaluate their websites to implement SEO best practices and Google's guidelines.
As an inbound marketing agency, it's our job to stay on top of marketing and SEO trends. After all, our clients, whose businesses span across a variety of industries, rely on us to deliver meaningful results for their business growth.
Get your website assessed to find out if it meets Google's criteria for high-quality.