If you are a small business developing a marketing strategy, including video is a no-brainer. It is a cost-effective way to promote your business and increase your conversion rate. There is no denying the power of video as an effective and efficient marketing strategy.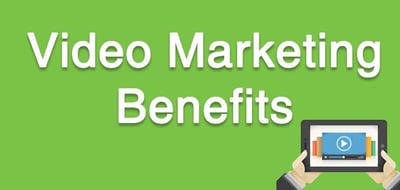 Start with Strategy
Want more people to know about you? Video content marketing can help. Before you jump on board the video bandwagon, however, create a video strategy that aligns with your overall marketing strategy. You want your content to be cohesive across all channels, not seem like an add-on. Sending a consistent message across all platforms creates trusts and reiterates your brand message.
Increase Exposure
Just having video as part of your marketing increases the chances that people will find you. According to several sources, including Spork Marketing, websites that have videos rank higher on Google searches than those without. And Google-owned YouTube is the second largest search engine in the world.
Plus, videos make it simple to explain complex information about your product or service. Don't have a cool product to demo? No problem! Create an explainer video that describes your company and how you help clients.
Share and Promote
Don't forgot that once you create a video, you have to promote it. Embed it on your site (see below) and post it to YouTube. Share it on your Facebook and LinkedIn pages and tweet it out. Try creating a video newsletter. Get creative!
The numbers don't lie! Statistics confirm that social video generates 1,200% more shares than text and images combined (Brightcove). So, once you get your video out there on social media, you automatically increase the chances of it getting shared. Remember to motivate viewers to share by making it obvious and easy with social share buttons and links. And, posting on SM will drive more traffic back to your site.
Integrate
According to The Content Marketing Institute, big-name brand "are not just creating effective YouTube channels, they're also embedding YouTube videos on their own websites. In fact, 61 of the Top 100 brands now embed YouTube videos on their websites (further blurring the lines between digital channels)."
Putting diverse, interesting videos right on your website means visitors do not even have to leave to learn more about your business. Make sure that any and all videos you post are mobile friendly since viewers spend more time on their phones than they do on their computers. Almost twice as long, according to this video marketing guide.
Engage and Nurture
Video is one of the best ways to engage your target audience or audiences. Beyond producing original content, more and more businesses are encouraging user-created content, which engages viewers and promotes social sharing. Plus, it gives viewers an objective perspective on your brand or products as opposed to a sales-pitch-based video.
You can also use video marketing to nurture leads. Segmenting consumers based on buyer persona enables you to cater video content to their specific interests or buyer phase. Knowing your buyers allows you to connect with them on a personal, emotional level.
Increase Sales
Let's be honest, we live in a busy, overstimulating world which means we need to be constantly discovering ways to stand out. Video is one of those ways. As it turns out, more people recall details from an interesting video they have watched than information they have read.
According to statistics from Video Brewery, 64% of people who view a video online end up making a purchase. So, not only does video marketing increase your exposure, it also increases your sales. Video should be a key component of your overall marketing strategy for moving buyers down the sales funnel.
A strong sales plan starts with a robust marketing strategy that includes video. Once an innovative, edgy trend, video marketing is now an imperative. Since people are never without their phone or device, you must take advantage of that screen time to visually engage them. Today, video engagement is a critical component to the success of all businesses, particularly those that sell online.
Besides killer video, what else is a must-have for your website? Learn content secrets from this informative guide.