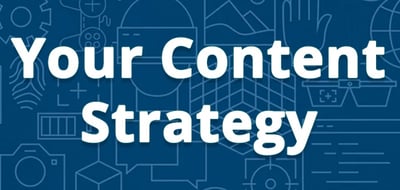 Put yourself in the shoes of a prospective customer searching the Internet for answers or information relevant to your product or service - you'll probably be flooded with a lot of content, right? It can be a challenge for searchers to find what they're looking for. Sure, Google continuously updates its algorithm to optimize search results, but your customers still have to sift through clutter before they find you. That said, your guiding light for a profitable content strategy are smart goals, audience research, style and unique voice, and guidelines so that your ideal customers can land on your website easily and keep coming back.
Although content tactics are crucial in the converging media world, a whopping 70% of marketers lack a consistent content strategy (Altimeter). Here we look at a few integral elements to developing a content strategy that drives results and high ROI for your business.

[Download]
Quality Over Quantity
The best way to build trust and solve problems is to focus on quality. Position your brand as the go-to place for knowledge, expertise, and leadership. Whereas a "more is better" approach could lead to content marketing burnout, and might risk turning off prospective leads.
Divide Your Content
Depending on your marketing plan, your content strategy should have a clear focus in terms of structure and levels. If you don't know where to start, guide yourself with the Content Marketing Pyramid (below). This framework helps to organize your strategy according to your goals and priorities. We recommend starting your pyramid from the bottom - produce 'snackable content' which involves more frequency and low effort (social media posts, curated content, and short blog posts). Then, you can make the gradual climb to the pyramid's top by adding well-crafted white papers, case studies, eBooks, and other resources that drive effective lead generation. It's important to include offsite content such as external articles and inbound links from other sites to increase your site's authority and rank higher on search engines.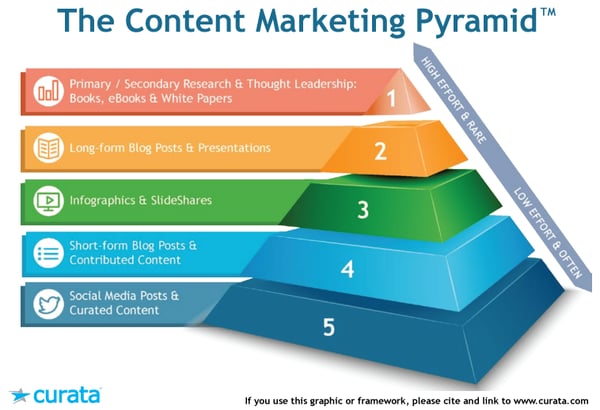 Graphic by Curata.com
Customer-Focused Content
Avoid sounding salesy. It can be tempting to boast details about your products and services on your blog, but readers will bounce out immediately if you make it all about your company. Instead, think of how you can add value to your readers; find out their questions and concerns and address them via a blog post or video.
Drive Traffic With SEO
After shaping your content strategy according to the narrative you've envisioned and putting it to work, your message needs to reach your audiences. Implementing basic SEO will help you to get found by search engines. Keyword-rich content and using common terms that people use on Search are some core ingredients to creating search engine optimization.
Is your content marketing strategy effective?
You'll know your content is making waves when the flow of people visiting your properties are not only connecting with your content, but also sharing it with their contacts and putting your brand on the map. If some areas need fine-tuning, let us know what issues you're having. Get in touch!