Your local business deserves to be seen by local customers, and I'm not talking about the yellow pages. If your brand is not appearing in "near me" searches, it's high time you polish up your local search engine optimization (LSEO) practices now.
With frequent updates being made to Google's local search algorithm, your business needs to stay competitive to keep up with continuous changes in the landscape of search. If you need some pointers to get on the right track to increase visibility, ranking, and generate traffic, you're in luck!
We've put together a local SEO To-Do checklist for your business to get on the marketing map fast.
[DOWNLOAD]
Local Content
Bust out your writing chops, even if it requires you to churn out about 150- 200 words on a given page. Providing website content is an extremely important inbound marketing strategy to engage with your audience.
To optimize local SEO, why not localize your content?
Post testimonials from customers on your landing pages that cater to a specific city or area;
List your local clients to demonstrate which local businesses you're servicing;
Post city-centric news about what's going on in the area;
Create case studies for each location to boost credibility with local customers;
Write up bios of your different staff members at different locations along with their photos to establish a more personable connection to prospect customers they will be serving;
Write or post images of that local charity event you recently attended to display community involvement.
Keyword Research
In order for your business to be found and ranked high on search engine results pages, you need to find out what people are typing when they're searching for local products and services like yours. Narrow down key phrases and terms that pertain to your business and that people are actually using; for example, "snowboard repair service." As a local business, you can also make your keyword location-specific. For example, "snowboard repair service Burlington Vermont."
Do you know which keywords to rank for to boost local SEO? To start, you can make a list of relevant and important topics based on your business and industry. Ask your customers, employees, friends or family what terms or phrases they would use to search for a business like yours. If you're really stuck on trying to think of keywords about a specific topic, there's always Google suggestions - when you plug in a keyword in search, related search terms will appear in bold at the bottom of Google's results. Try it out!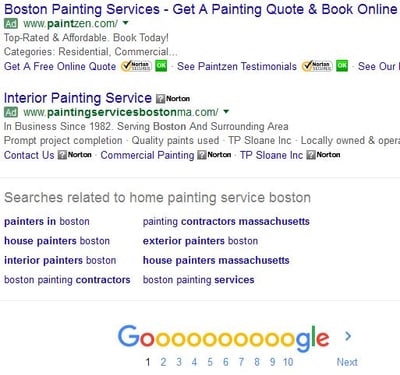 It's very important that your website's content is optimized with target keywords to increase your visibility on results pages. If you need help, Google Keyword Planner helps you find keyword ideas and shows you their estimated search traffic; HubSpot's SEO tool is integrated with all your content and plans your keyword strategy while giving you SEO tips in real time.
Meta Descriptions
There's no better opportunity to give people a short snippet of your brand on search results than to add a meta description. Although not much of a ranking tactic, its main purpose is to influence the searcher to click on your content from search results. The formula for an effective meta description is to make it interesting and descriptive, no longer than 135 - 160 characters long, and don't forget to add in keywords.
NAP Details
It's a no-brainer, but listing your brand's name, address, and phone number (NAP) is critical for any business to rank well on geo-targeted search results. If you have only one location, include its details on the footer of every page. For multiple locations, build citations for each physical location and include its matching NAP details along with its respective website URL, if necessary.
Google Maps
Google maps is a helpful and visually appealing tool to imbed on your Contact Us page, so why not use it? Show people exactly where you're located so that they don't have to leave your website to search for directions elsewhere.
Mobile Friendliness
Did you know that since Google's algorithm update earlier this year, they're penalizing websites that are not optimized for mobile devices? Talk about strict!
Though, that should put things in perspective, here's another fact; search queries containing "nearby" or "near me" doubled in the past year, according to Google Trends, and 80% of those searches were from smartphones.
So chances are people are searching for your products and services on the go. Missing out on mobile search traffic is a significant loss. So, use mobile marketing best practices and adjust your website to fit the small screen by making sure its user mobile experience is as seamless as it is responsive.
Google My Business
Do your business a big favor and sign up for Google My Business, a free business listing that helps people find you easily. Here's how it will benefit your local SEO:
Receive and respond to customer reviews;
Customers can find directions to your business;
Manage and update how Google displays your business information;
Get insight on how users are finding your business.
Tip: When signing up, enter your exact business name and this alone - no keywords, no location included. Also, your business address must be accurate and consistent with how it appears on various citations throughout the web; and your phone number cannot consist of call tracking numbers or 800 numbers.
Remember that Google is nit-picky and will mask your local visibility if you're not precise. See Google's set of guidelines for representing local businesses.
After you've checked off these actionable tips from your checklist, your work is not done yet! These are just a few pointers to get you started.
If you want to outperform your competitors, there are some SEO mistakes you need to avoid. Take it from the experts, learn SEO best practices for your website.