Inbound marketing is the marketing strategy of the future. It has evolved from the realization that the consumer is getting smarter and platforms are changing. If you want to impliment strong social media strategies and use fresh new content to get the right type of consumer to come to you instead of reaching out into the void in hopes that someone finds what you're selling interesting, then inbound marketing is what you're looking for.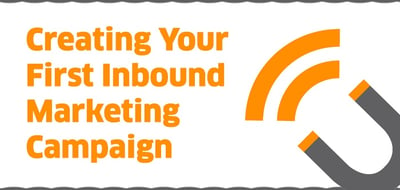 Over the course of this week we will take you step-by-step through the process of creating the best inbound marketing campaign for your business. You will learn the marketing strategies that your company might be missing out on and with this information, you will be able to improve your lead generation and conversion rates. Marketing can have some complicated strategies, but with these tips, you can't go wrong. Here is a preview of each step we will touch upon and why they should matter to you.

Call-To-Action (CTA)
Have you ever scrolled to the end of a blog post or seen in an email that colorful bubble offering you something in an intriguing way? That's a CTA! You can draw people to your content through social media and such, and they can love the content you're creating, but you aren't going to get anything out of it if you don't provide a CTA. What a CTA does is begin the process of converting your audience to leads by directing them to a page where they can gain something like a free eBook or weekly newsletter by submitting their contact information. Without it, you're stuck with great website traffic that you can optimize.
Landing Page
The page that a CTA leads to, the one where people enter their contact information, that's called a landing page. The number one reason why businesses don't use landing pages is because they don't know how to set them up. This is a big issue because the importance of having a proactive one is insurmountable when it comes to gaining leads. As soon as someone goes from a CTA to a landing page, fills out the form, and hits submit, you officially gain a lead. That's a possible customer who you now have a chance to nurture! If you have an attractive CTA, but you're landing page is not up to par or it doesn't exist, there's a good chance people are going to leave your website with very little gained for you or your prospect. If you're landing page is how it should be, then your conversion rate should constantly be on the rise, which means your sales are on the rise.
Thank You Page
When you build a thank you page, you're not just being courteous to a possible customer. You're starting the grooming process so that they know you are going to be attentive to their needs. You are also inching them farther down the rabbit hole. If you create a strong thank you page, you should be providing your new prospect with another offer. This doubles the chances of gaining a customer, but it also can create two sales or two reasons why a customer would find your solution the most helpful to their problem. The thank you page is a reminder that just because someone has entered their information doesn't mean that their problem has been solved. It just means that they are getting closer to solving it. So with the right setup and the right marketing strategy, you will find yourself enhancing the relationship between your company and your leads.
Those are the three topics that we will go into great detail on this week. They seem simple and with the right information you can easily achieve the goals of each step, but it's important to understand the positives and negatives for each one before diving into inbound marketing. So meet us back here tomorrow to find out the perfect way to create a CTA.
For more information on inbound marketing, check out this free eBook!