Every business—regardless of size or industry—must promote itself in order to stay afloat in the competitive market. What many traditional businesses are discovering is that inbound marketing, the Internet, and social media present a variety of promotional opportunities. Financial-based businesses face the challenge of reaching a new audience, such as those who don't think finance applies to them (it affects everyone) or those intimidated by the financial sector. Here are some promotional tactics to give your financial business an edge.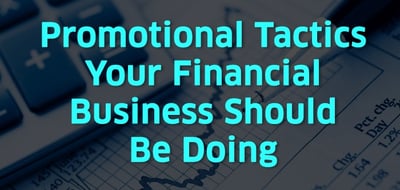 White Papers
White papers or thought papers may seem boring, but they are a stellar way for you to share your knowledge and promote your business. Focusing on topics that the average person might have questions about, such as "how to open an IRA for retirement savings" will enable you to connect with a wider audience. Set up forms that capture critical data in exchange for a download.
Blogs
Think of a blog post as the dynamic version of a static white paper. It offers the same opportunity for you to answer questions and share your knowledge, but in a different format. Blogs should contain short, easy-to-digest paragraphs and links to additional information. If you've had success with white papers, why not try widened your audience with a blog?
Email
Email marketing and nurturing are great promotional tactics for prospects and leads. Once you have determined your ideal customer and created buyer personas, you will know what to send to whom. Focus on specific pain points and offer solutions. Consider buying or renting a high-quality list if you need to bump up your database. Always include a call to action.
Referral Program
Many financial businesses and advisors do this on the fly, but having a formal program in place is advantageous. A structured referral program encourages your current clients to recommend you and enables you to track who is doing the referring. If you don't know who your biggest cheerleaders are, you cannot properly thank them or know what segment of your clientele boasts the most promotional potential.
Strategic Networking
Networking can mean a lot of things, and all of them are beneficial. In this case, consider creating a go-to group of like-minded professionals in complimentary (but not competitive) businesses. For example, your go-to circle could include a real estate professional or an attorney with whom to exchange advice and referrals. Continue building your group with other knowledgeable professionals; find out who they know and keep building your personal network. Also, consider joining a local Chamber of Commerce or similar community group for networking opps.
Event Marketing
Event marketing is a go-to for financial businesses because many people prefer an in-person approach rather than a sales call. You can stick with the standard bagels and coffee brunch or get creative with a clever idea, such as BYOB—bring your own buddy, where every invitee brings an interested friend in exchange for a free drink ticket. Remember, even though you want promotional tactics that attract new clients, you don't want to ostracize your core demographic. If you are in a small community, try local outreach, such as a free retirement planning seminar at your library.
Social Media
Don't shy away from social media as a way to promote your business and services. There is no doubt that companies not on Facebook and Twitter miss out on huge opportunities to get their name in front if millions of potential customers. Use your buyer personas to determine which SM sites offer the most potential for you.
Advertising
Even if you don't have the budget of a Schwab or New York Life, you can still advertise your financial business. Depending on the size and location of your business, consider local advertising as a promotional tactic—newspaper, magazines, local SEO, subway ads, and more will increase your exposure. Consider sponsoring a local sports team or add your name to a local business directory list. Getting your name out to the public is the best way to increase your exposure.
Statistics show that of all industries, the financial sector has been slow to adopt modern inbound practices as part of its promotional strategy. Although outbound marketing has worked for many years, times and practices are shifting, so try blending your traditional approaches with modern, Internet-based promotional tactics.
If you are stuck on how to get started, download this free guide to Inbound Marketing 101!