Inbound marketing is not just for promoting the coolest new technology or hottest product, it works for all types of business and services. The principles of inbound marketing can be used by professionals in all industries to attract clients, and the financial service industry, a sector known for cold calling, can certainly benefit from an infusion in inbound practices.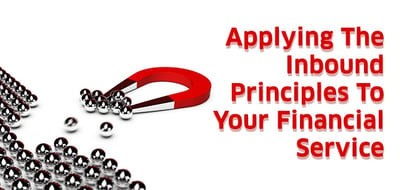 Blogging
A lot of people have financial questions…and unfortunately, many of those questions go unanswered either because they are unsure who to ask or intimidated by asking. This all-too-common problem can be aided by a financial services blog that provides information and answers common financial questions and concerns. Not only will this increase your exposure, it will help establish you as a leader in your industry.
Website
It is not enough to jut have a site, you need a smart, responsive site chock full of information. The financial industry go-to of cold calling is outdated. Clients want to be able to research and read information before they ever speak to anyone. And remember, as technology advances, less and less individuals even like to talk on the phone, so you must adapt.
"People aren't always ready to buy when they visit a website and they're much less responsive to a hard sell. They have more information available…than ever before, all at the end of a Google search. In other words, they're looking for trusted advisors and inbound marketing, driven by useful content, is a powerful way to build trust and share advice" (Talisman Solutions).
Keywords and SEO
In conjunction with your website, you need a keyword strategy for search engine optimization so that the right people can find you when they are looking. For those new to inbound, SEO is "the process by which 'on page' and 'off page' factors are adjusted to improve the visibility and relevance of a Web page for a given set of keywords," which are carefully selected words and phrases people use to find you online (Rawson Marketing). Think about what sets your financial firm apart from others and use those unique factors to attract prospects.
Emails
In some ways, email marketing is the modern version of warm calling. Once you have identified your target customer (by sector, income, geography, etc.) you must nurture them via email. Emails offer the opportunity for you to answer questions and disseminate important information. You can make them educational, promotional, or personalized depending on the message you are sending, just be sure that the content is tailored to a financial-minded audience and you include a CTA.
Call to Action
The call to action, or CTA, is where you flip the switch by offering the reader something they need or want in exchange for contact information. Depending on the audience, offer them a free guide to financial planning, a checklist for retirement savings, or an e-book on how to pay for college. Be sure you are using buyer personas to segment your readers—a 50-year-old executive is not going to have the same needs or goals as a 24-year-old freelance graphic designer.
Social Media
Social media is a great, albeit somewhat non-conventional, way to attract new clients, especially those who are just beginning to think about their financial future or haven't thought about it at all yet. Use platforms like Facebook, Twitter, and LinkedIn to expand your network, attract new leads, and establish yourself as a thought leader.
Events
Events are not strictly inbound marketing, but they are also excellent to expand your network. While modern, online approaches will attract a more diverse clientele, there will always be the more old-school prospects who prefer in-person interaction. There is still a huge portion of your target base who wants face-time and a free drink, so don't neglect this core group while nurturing new leads.
We realize that for some of the more traditional financial advisors these ideas will take you out of your comfort zone. The good news is that you don't have to implement all of them all at once. Pick a few that you feel most comfortable with or the ones that will challenge and try some new techniques. Once you try these innovative approaches and see an increase in business, you will feel ready to execute even more inbound marketing practices.
Not sure how to segment your target audience with buyer personas? Get insider tips with this complimentary guide.