You might fancy yourself an expert in SEO, but what do you know about local SEO? It turns out that local SEO is quite different and requires an additional set of tools and skills. For your business to do well, you have to have a company that is proficient in both types. That way you gain a bigger client base. Here we walk you through how to set up local SEO.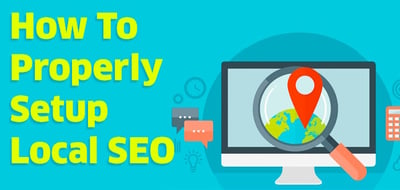 Building The Basics
To be found in the "local pack listings" that result from a Google search, you must first set up your Google My Business page. This important page should contain as much detailed information as possible: start with a long, unique description with links and your NAP (consistent across your site and local directories); lots of photos, including high-quality profile and cover images; customer reviews; and, if applicable, hours and times you are open.
The wizards over at Search Engine Land highlight the importance of being consistent with your NAP (name, address, phone number) on all of the pages on your website as well as on other sites (local citations). They recommend using Schema.org markup to help with this task.
Local Listings
Local reviews—on Google, Yelp, and other directories—have a huge impact on search results so be sure to take advantage of them. A good place to start is by reaching out to your local client base. You can offer an incentive, but often most people are happy to write a review if they have consistently had a positive experience. Adding details or a link on your site about how and where customers can review your business is very helpful since many people might love you and just not know where they should say that. For example, I always think of Yelp for restaurant reviews, but recently wrote a review for a local wellness business, at their request. I was more than willing to do it; it just never occurred to me that Yelp was the appropriate platform.
In addition to making your site mobile-friendly, you want to be sure to include as many local citations as you can, like adding your city/region and relevant keywords in your landing page title tag, H1 tag, URL, and content. Embedding a Google Map with your location marked is also a good tool. Nifty Marketing notes that 92% of local businesses ensure success by listing NAP right on the landing pages.
The Missing Links
Local SEO relies on local link building. "Compared to standard SEO campaigns, local SEO relies much more on links from other local websites that are really relevant to your business. It's less about getting links from high authority websites…and more about getting links from websites local to you," (Search Engine Land). Local directories are an excellent resource for link building and citations. There are many tools, like Bright Local, WhiteSpark, and Majestic, that help you track your own NAP references as well as your competitors'. To help create a local link building campaign look to MeetUp or Reddit, as well as local press. Get creative with building your local brand—virtually and in person—host an open house, offer discounts, give interviews, and enter contests.
The final piece of the pie is measuring and maximizing your click-thru rate (CTR), which is one of the core measurements Google uses for its Adwords platform. Increase your CTR by making your tags pertinent and readable as well as a relevant meta description. Measure click-thru rates from different social media sorces and use the results to help with your SERP excerpt.
Are you looking to build your marketing strategy? Use the free eBook below for all the tips you need!