You go around clicking different links and reading a bunch of different articles every day, but do you ever stop and wonder why you click those links? What draws you to them as appose to others with similar information? A good title can be the difference between 100 clicks and 25 clicks. If you're having issues coming up with one on your own, let me take you through the aspects that will help you so that you will know how to create a catchy blog title.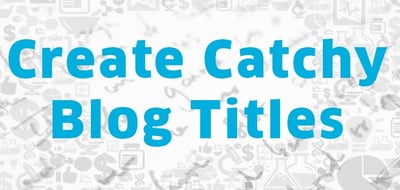 Provide A Solution
You need to make sure your title provides a solution to someone's problem. That way, it catches their interest and immediately makes them want to find out what you have to say. People are always looking for ways to make their lives easier or more productive, so you should use your title to show that your link provides content with the ability to do just that. Using words like 'steps' or ' how to' is a great jumping off point. If your content is not something that solves problems, then you might want to take a second look at what you're writing about. Remember that your title should always relate to what you're writing. Don't try to trick someone into reading something that isn't what you initially claimed it to be. That might give you a high click-rate, but it won't get people past the awareness stage of your inbound marketing strategy. Also, it gives your blog a bad reputation. Wear those leather jackets and be your bad self, but don't bring your blog along for that ride unless it's safely strapped into the sidecar.
Perfect The Length
The length of your title is another important aspect that can make or break your click-rate. A wordy title does not reflect well on your writing skills and therefore deters people from reading your posts. It's never fun to read something that drones on and on. In fact, that's the type of content that you only read when you're forced to. So don't let your blog give off that impression. On the flip side of that, if you have a title that's too short, it might not show off what your content has to offer, which is not a good situation to be in either. Why would someone want to read what you have to say if they have no idea what they're getting themselves into? There's just too much competition out there for you to be able to afford to fall into that trap. Therefore, you want to find that perfect balance between helpful info and length. If you have to take a breath to finish reading it, it's too long. If you have to reread it in order to understand the subject, it's too wordy. I know, we're always taught not to judge a book by its cover, but we all do it. Think back to the last few links you clicked on. You clicked on them because the title drew you in, right? You saw something that made sense and was related to your life so you clicked on it. Work to make sure people do the same with yours!
Use The Correct Terms
You should have a list of key terms that will draw in your specific clients. Use this! Take some of those key terms and throw them into your title. Make sure they make sense with what you're writing about and what your title is referring to, but those key terms will increase your click rate because you know that they draw people in. They don't attract just anyone though. They attract the people who would be interested in your product because they are generated based on information that's specific to your company or product. Always keep in mind that you can get 400 clicks to your content, but if the right types of people do not carry out those clicks, then they aren't going to continue on to invest in your product or become a lead. So if you know how to create catchy blog titles using key terms, you will be able to attract the right kind of person. Keep in mind that people are smart and they know when a company is trying to market to them, so it's important for those key terms to blend in with the rest of your title.
You now have the knowledge to attract more as well as the right kind of traffic to your content. I know, something so simple seems so complicated, but if you follow these guidelines, you will be able to create a catchy blog title with ease!
If you're looking for more helpful tips, sign up for our monthly newsletter!