Social media has become an important ally for businesses. Facebook and LinkedIn are essential to keep up with, but Twitter in particular can help you develop a stronger following because it gives you a closer connection with a broader audience. One of the most crucial aspects is, you guessed it, the retweet.
Twitter can be confusing, I know, and there are so many different parts to it, but the two different aspects of a retweet are pretty simple concepts. The first one is when you retweet someone else. The second one is when your own tweet gets retweeted. Although the idea is simple, the power of the retweet is extremely influential. Let's take a look at the different things these two parts can do for you!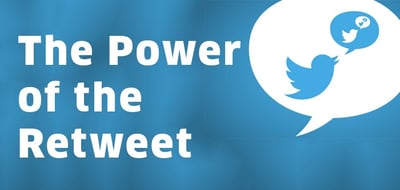 Building Relationships
When you retweet someone, you are promoting someone else's content, but that's not all you're doing. You're also garnering a relationship with them. Though it might be an online relationship, it's still significant. If you retweet someone often, then they might notice you and check out your page. Then from there, there's a good possibility that they will follow you and begin to retweet your content as well. All of a sudden, you're not just promoting your work to your followers, but you're promoting it to their followers as well, which could open up a whole new client base for you. And who doesn't love gaining new connections? Especially with people you might not have been able to interact with if it wasn't for twitter!
Promoting Your Industry
When you retweet someone else's tweets, you're also promoting your industry. It's not as if you're going to retweet a poor quality tweet, so you're circulating the best of the best content from your field. This will enhance people's opinions of your own company just for being in that industry that, after some positive retweets, will seem like an important field. Also, sometimes you want to lighten the mood around your business and therefore retweeting something hilarious can be a great tool to take advantage of. This list of the Top 10 Most Retweeted Tweets Of 2010 Ranked By Twitter shows that you can get a strong positive response by retweeting a funny tweet.
Constant Feedback
When you get retweeted, it can be because someone wants to show you off or because someone wants to comment on what your tweet says. The great thing about this is that you get a chance to see who is enjoying your content, who isn't, and what they have to say about it. If you work it right, it can be a great focus group. If you don't, well, it can be a big mess of confusion, but hopefully you know what you're doing! The power of the retweet will help you hone in on the information in your tweets so that you can build blog posts and other content in a way that you know your twitter followers will respond to. The end goal is always to gain more leads, right? Well, if you get retweeted by others and then commented on, it will help you learn who likes what and how to tailor your information accordingly. And that is exactly what all this is about!
Name Recognition
There are a lot of twitter users who are strong influences on their followers. For example, when a famous musician retweets a video of a cover that a fan puts on YouTube, their followers will retweet it and shoot the video views up to 500,000 at the very least. Now, I know it's not very likely that you're going to be retweeted by a huge celebrity, but I have had success with retweets from minimal celebrities that still have strong cult followings. For example, authors are constantly retweeting people. Also, foundations retweet people. The only thing is that you have to draw their attention in by maybe attaching their name to something interesting. So, if you take a step back from your company twitter account to use your personal/professional account to tweet something about content you've written, you'll gain some very important name recognition.
So now it's pretty apparent that the power of the retweet is so strong that it can enhance your business and draw more attention towards your content. You just have to know how to use it right. Remember that not everything you retweet has to be serious. Throw in some fun ones every now and again and see how your audience responds. Also, I know it's really easy to only pay attention to the positive feedback, but try to look for some helpful criticism as well. Overall, don't be scared of twitter! It's a great tool that can really help you relate to your audience.
Now that you've mastered Twitter, it's time to master Facebook! Download our free guide now!