Customer experience reigns supreme in every industry and in today's digital realm, no business can do without social media, especially Twitter – where people go to discover what's happening. Twitter marketing not only boosts visibility and awareness, but also fosters valuable connections and interactions between a business and existing/prospective customers, who in turn, can become brand advocates. That's why you'll want to learn more about Twitter's new features, because they could help you gain more leverage in your marketing efforts.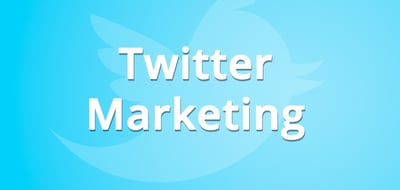 According to a survey by Twitter, 69% of respondents had purchased from an SMB after following them on Twitter, and 78% of people who follow SMBs retweet posts from that business.
In case you've been out of the Twitterverse loop, here are some new features you can add to your Twitter marketing arsenal.
More Characters
Twitter wants you to express yourself more with 280 characters (up from 140 characters), which means that users have more room to convey a thought. And despite garnering some criticism, it could help increase conversion rates for SMBs.
Your Twitter marketing senses should come into play at this point and recognize the potential of Twitter's character increase. This is an opportunity for marketers to amp up tweets and replies with more information for their target audience, as businesses strive to improve the relationship they have with their followers.
[DOWNLOAD]
More Personalized Notifications Tab
The Notifications tab is where users can check recent activities associated with their own content such as new followers, likes, retweets, replies, etc. This section has been tweaked (on both mobile and desktop) to include random updates about the people you follow, like what Twitter trend they're tweeting about, their links to news articles, and who they're following. Even though this track and alert feature has existed for years, it's been recently moved to the Notifications tab as a way to keep users "in the know" about any content that might be interesting to them.
Hint: The Notifications tab is what users check on a regular basis. Depending on how you leverage Twitter marketing for your business, it can help (albeit in a small way) to raise awareness of your brand.
Accessible Images
By now, you're aware of the immense influence that visual content has on Internet users (check out the stats from HubSpot below). Expand your reach and your audience by implementing best practices for your business with Twitter's alt text descriptions to images for the visually impaired.

Image by HubSpot
To set up:
Go into your Settings
Tap Accessibility
Next to Compose image descriptions, turn the feature on. If you're enabling it from a desktop, simply select the option.
When you're ready to add an image to your tweet, just tap Add description.
When Twitter rolled out its biggest redesign in years along with new features - based on user feedback - their main focus was to enhance user experience, engagement and overall acquisition. It's never been a better time to sharpen your Twitter marketing skills to get the word out about your product or service.