It's no secret that video has become an increasingly important channel for marketers. But just how important is it? Well, by 2019, it will account for 80% of global internet traffic, including 85% in the U.S., according to Cisco. YouTube is the second largest search engine for good reason.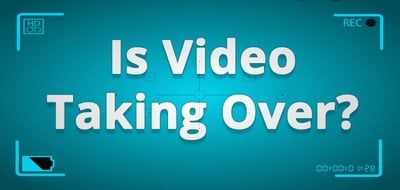 If you haven't already begun to develop a video marketing strategy, or are only using it minimally, now is the time to start ramping things up. Your inbound marketing strategy is based on getting found online, so if you want to continue to be successful, then this is the direction to go. Also, 72% of businesses say that it has improved their conversion rate, (Wyzowl), so the potential payoff and opportunity are apparent.
[DOWNLOAD]
Finding ways to attract new leads and customers is a main focus for marketers. You need to be able to stand out amongst all of the content "noise" online. Visual content will engage your audience and capture their attention. It's easy for viewers to digest and can create a memorable experience. As an added benefit, viewers retain 95% of a message when they watch it, compared to only 10% when they read it in text, according to Popvideo.
Not only do people retain more of a message when they watch as opposed to reading, but they also prefer it that way. 59% of senior executives agree that if both text and video are available for the same topic on the same page, they'll choose to watch.
It's also easier than ever to do, with tools like Facebook Live and even recording from a phone or camera. These tools allow you to experiment with what works best, without purchasing expensive software. It's possible to make this part of your strategy without busting your budget.
Look for ways to provide value and educate your audience. How-to's and tutorials are popular formats, and give you the opportunity to demonstrate how your product works, or to focus on other topics that are of interest to your audience. Remember, you want to avoid being overly "sales-y" in the content you're creating.
52% of consumers say that watching product videos makes them more confident in online purchase decisions. They feel like they have a better and more realistic understanding of what a product will look like or how it will work once it actually arrives at their home. Be sure to include your content on your website, as well as on your blog and social media channels.
Because so much more video content is being produced, it needs to show up in search results and stand out in order to add value as part of your marketing strategy. You want to make sure that your content is not only getting found, but that it is also driving traffic back to your website. To make sure that this is happening, you'll need to make sure that you optimize it.
Optimization Best Practices:
Keep it short. Most should be a maximum of two to three minutes in length.

Choose a goal that let's you focus on reaching your buyer personas at a specific stage of the buyer's journey.

Include an actionable CTA

or a link to a landing page so that viewers can take a next step.

For longer or more valuable content, such as a webinar recording, consider using a form like you would with written content offers.

Use the right keywords for the title, tags, and description to help with SEO.

Create something worth watching. Getting viewers to watch for a longer period of time impacts your search ranking.

Promote across your social media channels and website.