LinkedIn is at the top of the social networking chain for B2B marketing. With 500 million active users, LinkedIn generates 80% of B2B leads and is rated the most effective social media platform by 63% of B2B marketers.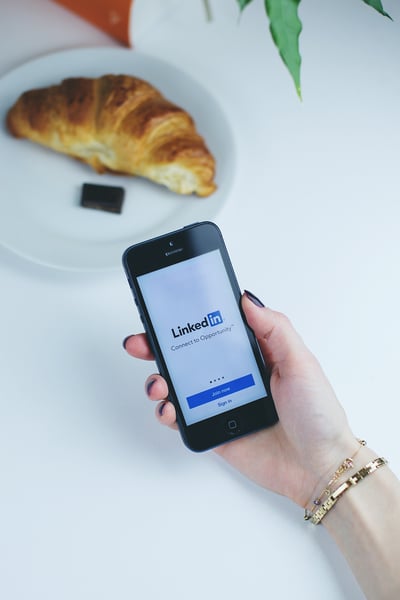 If you're looking to step up your lead generation game on the world's largest professional network, you've come to the right place. New to LinkedIn? Creating your company page involves a lot of thought and some strategy. In our previous blog, we rounded up a list of essential tips to consider while building an attractive page that effectively promotes your business.
In this blog, we'll show you how you can incorporate LinkedIn in your B2B marketing strategy and turn your profile into a lead generation page.
[DOWNLOAD]
Build Your B2B Marketing Strategies Around LinkedIn
Step 1: Find your target audience to generate stronger leads
Once you've built your buyer persona and you know the audience you need to reach, do your research directly in LinkedIn. You'll want to search for profile characteristics and see what that audience group or type has in common, such as skills, job titles, whether they work in similar industries and which geographical locations they live in.
Step 2: Create a strong pitch for your company description
When you come across a company page on LinkedIn, what's one of the first things to grab your attention? You're most likely to check out the company description, who they are and what they do. Naturally, you want to gain more insight on what the company or organization is all about. But, some company descriptions can be downright boring.
Define Yourself
Make sure to use the description section to speak directly to your target audience. Start off with a simple company overview; what you do, your offerings, who your clients are and your company's mission. Tailor your description to get found quickly with SEO keywords. Remember, Google features the first 156 characters of your description as a preview in search engine results, so make it catchy and SEO-friendly.
Step 3: Use email prospecting
You can reach out to prospects via LinkedIn InMail. However, there's a good chance it will get ignored or deleted.
Tips for creating cold prospecting emails on LinkedIn
When crafting a prospecting email:
Aim for brevity. Keep it short effective and to-the-point.

It's a good idea to skim through their page to find details you can use to personalize your message.

In closing, you don't want to ask for a meeting right away. Your first message should focus on engaging the prospect in a conversation.

Last, but not least, make sure your message talks about them (e.g., "you," "your") and don't make it about you or your company (e.g., "we," "my").
Step 4: Make your content count
When you know all about your target audience, you're ready to produce targeted and quality content to capture leads and boost sales. Whether it be in the form of blogs, videos, infographics, white paper and eBook, you'll want to strategically post them on LinkedIn, making sure each post has a call-to-action that guides your leads through the marketing funnel.
Step 5: Turn it into a lead generation page
All these elements mentioned above help to generate leads, yet there are a few other things you should keep in mind when it comes to creating a high impact company page. Add strong images in each post along with equally engaging text. For example, if you're inviting your audience to check out a new product launch video, your post should constitute a catchy and short description of the video and, of course, the video itself.
Finally, it's a good idea to join LinkedIn groups. It's an easy way for people to find you and connect with potential customers. It also keeps your page involved in discussions related to your industry.
Tell the Story of Your Brand
Evocative messaging reveals the heart and soul of a brand. Although the use of storytelling is not a new tactic, many brands struggle with creating an authentic story that also carries the power of persuasion. But in order to shape your brand voice, you need to first identify your audience's voice. Learn everything you need to know about social media marketing and building your brand identity on different social platforms. Download our free guide: