Calls to action are an essential part of your lead generation strategy that convert your website visitors into leads and leads into customers. The types of strategic calls to action you create should reflect your goals and which stage of the buyer's journey someone is in.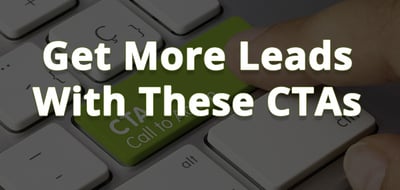 CTA Best Practices To Remember:
Keep it brief: your CTA should only be a few words long
Be visually appealing and stand out on the page
Use action words and compelling copy
Clear message: the visitor should know exactly what they'll get when they click
Sized appropriately: not too large or too small
These are 5 essential types of calls to action that will help you to get more leads.
Content Download
One of the fundamental types of calls to action to have in your arsenal is the premium content download. This is often one of your first opportunities to turn a visitor into a lead. Your blog or other high traffic page is a great place for these CTAs, which will help you get more leads by offering up valuable content to visitors. The CTA should be for a relevant content offer such as eBook, template or guide, and can be located at the end of a blog post, in the sidebar, or somewhere in between.
Make sure you also have landing pages that will effectively capture leads. Remove distractions on your landing pages, and keep the form simple. You don't want to ask for too much information right away. The form should reflect the value of the offer. Remember to use compelling copy and to customize the submit button to relate to the offer, such as "download your guide" or "get the template."
Blog Subscribe
If you are regularly producing relevant, well-optimized blog posts, chances are visitors are finding your company through them. You want to keep those visitors coming back for more by making it easy to subscribe to your blog or newsletter. That way, you can share all of your latest posts and begin to move those leads further in the buyer's journey. Make sure to be clear with the CTA about what a visitor is signing up for. Are they signing up for notifications for when you've published a new blog post? A weekly email newsletter? At this stage in your relationship with your lead, you want to find a balance between staying in their mind and sharing too frequently.
In-Line CTA
Your calls to action shouldn't just be placed at the end of a blog post, especially because, though it pains me to say it, most people won't make it all the way to the end. You should test to see where the best place to put your CTA is for your audience. A content offer that directly relates to the topic of the blog post can be featured between paragraphs of text towards the top of a post. Try using italics or colored text to draw attention to the offer.
[DOWNLOAD]
You can also incorporate social media engagement within your blog posts by pulling out a quote and providing a way to share it. One way to do this would be to create a tweet out of a specific text in a paragraph and tag your company with a link to share on Twitter. These types of calls to action encourage people to promote and advertise your content, serving as a great marketing and lead generation tool.
Social Sharing
70% of people are more likely to buy a product or service when they see content about it that has been shared by a friend. Social sharing icons should be included on relevant pages of your website, but you can also have a CTA that specifically asks people to share the blog post or like your company on Facebook. This is a low-risk way for people to begin engaging with your company. Encouraging visitors to like or follow your social media accounts is another way to nurture a relationship that can turn them into a lead in the future.
Decision Stage CTA
Effective CTAs at the decision stage of the buyer's journey will get more leads closer to becoming customers. These might include a free trial, product demo or free consultation, and can also be content more specific to your product or service like case studies and white papers. Avoid wasting time on leads that aren't ready to become customers by understanding how to tell if you have a sales-qualified lead. Allow leads to check things out for themselves by offering a free trial of your product or service, but first you've got to get them to sign up. The offers at this stage need to fully highlight the value your company can bring to a lead, while providing the right nurturing techniques to convert them into customers.