It's not easy to grow a software-as-a-service (SaaS) company in a fiercely competitive market. More end-users are switching to cloud-hosted and SaaS apps for communication and productivity purposes. And why wouldn't they? Cloud-based software offers benefits businesses can't ignore, from cost-effectiveness to scalability. In fact: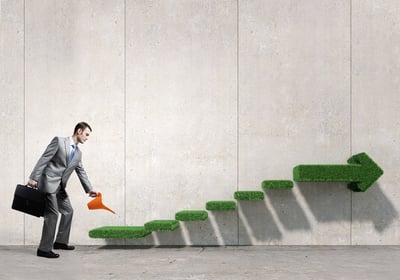 The SaaS industry is expected to grow to $76 billion by 2020.
While every SaaS company is boasting about having the best features, it's getting harder for businesses to stand out. However, there's one differentiating factor you need not forget: The customer experience.

[DOWNLOAD]
According to a study by Walker, a customer intelligence consulting firm in the US, customer experience will overtake price and product by the year 2020. And it isn't just limited to retail or delivered by call centers. SaaS businesses need to find ways to increase their lead generation efforts. Need inspiration for your own strategy?
Here's what we recommend to our SaaS clients:
SaaS Marketing Stategies
1. Build Content
Content marketing is all about attracting visitors to your website, and generating leads. When you create online material, such as videos, blogs and social media posts, you're helping to promote your brand and garner interest in your products.

Other forms of marketing like paid search ads will generate leads as long as your advertising budget can stretch. Content marketing, on the other hand, is cost-effective, and increases in value over time as it continues to drive leads.

2. Search Engine Optimization (SEO)

SEO for SaaS companies has its unique challenges. For starters, keywords in the SaaS industry are very competitive and companies with bigger marketing budgets normally have the advantage of ranking high in search engine results. Keep in mind the following SEO fundamentals to gain organic rankings:

Search-indexing. How do you get your site indexed by Google, Bing, and other search engines? You have two options: You can sit back and wait for Google to find and index your content, which could take weeks or months. Your other option is to take an active approach by using multiple URLs to make it easy for Google to determine which type of content to display to the user in search results. For steps on how to get Google to index your site, read this recent article.

Link-Building. External links to your content is the best way to build authority and gets more referral traffic to your site. Check out these 6 steps for planning a link building strategy here.
High-quality content. Great content contributes to your overall website strength and gives Google more pages to index, giving you more ranking opportunities.
3. Product Trials

What better way to guide your customers in the buying journey than to offer them a free trial of your product early on? You'll be able to manage their expectations right from the start.
Happy Site, Happy Visitors
Happy clients are our best marketing tools. Looking for a no-obligation, free evaluation on how to optimize your SaaS marketing strategies? We're here for you.