Consider this. About 94% of all web traffic comes from Google searches. And the highest ranked search results on Google gets the lion's share of clicks. Question is, how do you position your content to improve your odds of ranking well on search results?
The answer is building an effective SEO strategy with your prospective customer in mind. Why? Because Google's algorithms focus on picking the best result that matches a searcher's intent.
With that in mind, it's important now more than ever to provide audiences with relevant content they want to see and read. To do that—and to help your business rank on search engines - you need to choose the right keywords people are using to search for products and services similar to yours for each page on your website.
In this post, you'll learn how to make the most of keywords to boost your SEO strategy in 2020.
Choosing the Right Keywords
First things first, think like your prospect. Once you know who your audience is, create your list of keyword ideas that best fit what they want. These keywords should describe different services and products you provide.
What would you type in Google if you were looking for these products or services?
Use keyword research tools to make the whole process faster and easier, such as Google Keyword Planner. The values in the example below show the keyword volume, competition and similar keywords.
To see what exactly you're up against in your competitive environment, enter your keywords in Google and see what websites rank in the top position. If big players like Amazon, for example, are occupying the top spots with a certain keyword, you probably have a low chance of ranking for that keyword.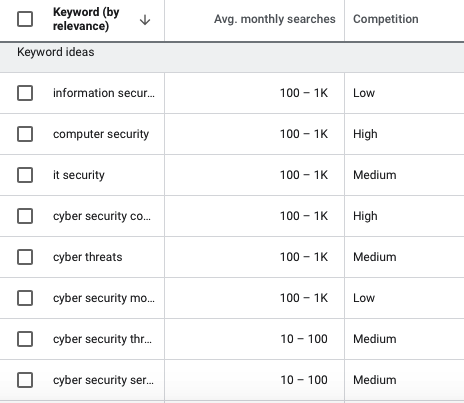 Using Long-tail Keywords
As you research keywords, you'll soon learn that ranking for really popular keywords with high search volume can be challenging. Competition is fierce, which is why your strategy should also include long-tail keywords.
Long-tail keywords are longer and more specific phrases that people might use when searching. Although these keywords have a low search volume and low competition, they generate high conversion rates because they're highly specific.
"Buy lightweight endpoint security solution" is an example of a long-tail keyword, whereas "endpoint security" is a shorter one.
Long-tail keywords account for 70% of web traffic
Where to Place Keywords
There are several areas on a given page where you can use your keywords to improve your search engine ranking. Once you've chosen the keywords from your list, you can place them in the:
Remember, don't overdo it. Stuffing all your keywords on one page can ruin your ranking and the user experience. Your pages are written for your readers, so integrate them naturally and wisely.
Still trying to make sense of keywords and SEO best practices? No problem. We're here to help. We'll answer your questions and give you tips to optimize your content through our analysis reports. Click below to find out more: