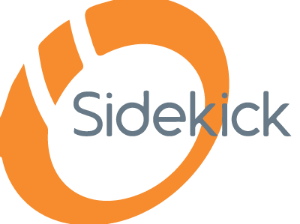 Increasing sales is, of course, the only way for your company to grow. But, easier said than done. So, how can you effectively ramp us sales? Investing in relevant, innovative technology can help you reach your sales goals. But with so many options to choose from, how do you know which one is the best to go with? The fact is, every option has its own benefits and drawbacks, and some sales tools will work for some companies, while some options won't. Here, we'll explain when it's best for your company to utilize HubSpot's Sidekick to grow sales and how to get the most out of this tool! Let's dig in.


If your company focuses a lot of its effort on researching, prospecting, marketing, and selling online, then the

HubSpot Sidekick

browser extension could be the solution you've been looking for. When you take advantage of the features and capabilities, you can close more sales with Sidekick. Here's how:

More Time to Sell
With Sidekick, you'll spend considerably less time on data entry so you can be out in the field. When Sidekick is integrated into your CRM, you'll never have to enter new contacts or data into the system because the sales tool does so automatically.


Track Your Data
The sales companies that excel today are those that not only develop leads

online

, but also qualify them before they try to make a sale. The more you know about your clients, the better you can sell to them. Sidekick's Insights feature provides you with a full company profile so you can pull up any relevant business information, internal contacts, or even similar companies while you're on a prospect's website. It works in the background and is right at your side when you need it. With Insights, you are armed with all of the vital client information you need in order to close deals.


Emailing Has Never Been Easier
If you're using Gmail, Apple Mail, or Outlook, you can integrate Sidekick with your email platform to help with your online communications. It will give you real-time pop-up notifications when your recipients open your emails or click on your links so that you always know what's going on. This kind of information can help you

understand what's working

and stay up-to-date on your prospects' thoughts. For example, if a prospect doesn't open any of your emails, you know they're not interested in what you're offering, so you don't waste your time trying to close a deal. It will also help you know when you should be closing the sale, too.
Additionally, you can use Sidekick's email-delay feature to write your emails ahead of time and then send it out when the time is ideal. This is especially useful for holidays, different time zones, and off-hours. Prospects are also more likely to open emails on certain days and during certain hours, so you can increase your sales by sending when they're most likely to open your email.


Don't Miss Vital Information Online
Qualifying information about your prospects can happen over a variety of different channels. They can be interacting with you over

Facebook

, LinkedIn, Twitter, or email, or they might be replying to your blog or using the contact form on your website. When you're busy selling, it can be difficult to keep track of every channel and ensure that you're getting all of this vital information.
Sidekick
can track this information for you, in real time, so your qualifying data is always up-to-date.


Now you know how HubSpot Sidekick can help you grow your sales. With Sidekick, you can have the ultimate advantage over your competitors. With this

extra help and data

, you'll be able to increase your sales in no time – so consider getting it to get going!

You can stay up-to-date on new HubSpot tools (and much more) by subscribing to our blog!