Smarketing (noun): The collaboration between marketing and sales that facilitates the effective communication of lead information.
Why is this important? As a marketer, you want to provide your sales team with valuable leads and the intelligence necessary to close deals. Not only are cold calls 60% more expensive than inbound leads, but HubSpot reports that 64% of B2B sales professionals believe that the results of cold calling have not improved in the last 3 years. With 93% of buying processes beginning online, HubSpot has become a vital tool for passing client information from marketing to sales, which helps salespeople to avoid expensive and ineffective cold calls. While HubSpot is indispensible for modern marketing, it is also a powerful sales tool. Here are 5 HubSpot tools that your sales team will love.
1. Contacts
Your sales team will love HubSpot's Contacts home page. Once a visitor has filled out a landing page and become a lead, HubSpot will collect information on that lead's activity on your website if they have cookies enabled. Lists, a function within Contacts, allows you to organize your contacts into various groups. Segmenting based on lead backgrounds, interests, or goals will enable your sales team to create a more personal experience when contacting those leads. Aditionally, this feature collects the all the data a sales person could possibly want on prospects, allowing them to find more engaged prospects within a few clicks.

2. Lead Scoring & Reports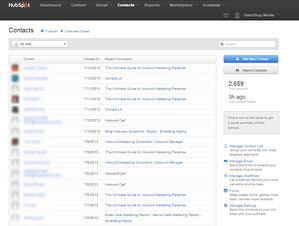 The HubSpot lead scoring tool shows salespeople which customers are likely to buy. Recently in 2015, Hubspot released algorithmic lead scoring so all you have to do is swotch it on if you have enough data. Additionally, You can track initial traffic sources, and see which contacts have become customers. Trend information on where traffic and leads are increasing or decreasing can help both marketing and sales to decide how and where to focus their efforts, and will ensure that only high quality leads are passed down to sales. Using these tools you can have your sales team focus on MQLs (Marketing qualified leads). Salespeople love it because it majes their lives much easier if its set up properly.


3. Dashboard
The HubSpot Dashboard is often overlooked, simply because it's the first thing you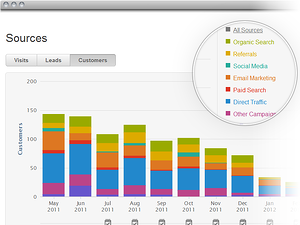 see when you access your portal. However, it is a useful tool in that it provides a visual record of your site's visits and new leads that month as compared to the previous month. Your team can create shared goals that will appear on the Dashboard, and can then watch the progress made toward that goal. Share this with sales! By knowing what the marketing goals are and how your business is progressing toward them, they can shape their own efforts to help reach target achievements.


4. Form Submission Notifications and Lead Revisit Alerts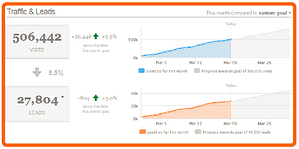 Form submission notifications will alert your sales team when a visitor fills out a form, and will allow them access to the information that new lead has provided. While lead revisit alerts are available only for Professional or Enterprise HubSpot customers, this function will let sales know when a lead has come back to the site. Both of these notifications allow salespeople to contact leads promptly, while they are still hot. If someone has just visited your website, your product or service will be at the forefront of that person's mind, making it the optimal time for a salesperson to initiate contact.

5. CRM SalesForce Integration
Smarketing is all about organization and communication, facilitating a flow of information on leads, opportunities, and customers between all teams responsible for generating and closing leads and delighting customers. When you integrate SalesForce CRM with HubSpot, every interaction sales has with a lead will be informed by HubSpot Lead Intelligence. The more informed a sales call, the more successful it will be, because it allows the salesperson to create a more personal sales experience. CRM integration allows for the passing of real time information from marketing to sales when closing, and makes delighting customers even easier by keeping track of specific timeline information, like birthdays or renewal dates.
With a properly set up integration between Salesforce and Hubspot, all contact information (including ever important opt-out records) you can keep your contacts accurate within both platforms. You can even set up a custom integration that only sends leads that have met certain critera to your sales team keeping them happily supplied with qualified leads.
The more information your sales team has on the people with whom they are selling to, the better! Effective communication will allow your marketing team to pass the right leads on to sales more quickly, which will increase their likelihood of closing. Businesses that use smarketing have been found to experience a 38% higher sales to win rate just from leveraging these tools.
No wonder salespeople love HubSpot, they make more sales, but only if you as a marketer is leveraging Hubspot to it's full potential.
Not sure if you have HubSpot set up to it's full potential? Schedule a free HubSpot assessment.