Raise your hand if you've heard the phrase "email is dead." It's commonly thought that email is losing popularity with the younger generations and going the way of the dinosaurs (if dinosaurs had gone extinct because of spam messages, that is). But, as proven by the 90% of millennials who regularly use email, it's still alive and kicking. And, it's an incredibly effective marketing tool. If you're wondering how you can harness the power of email for your own marketing campaigns, look no further! Here are 4 tips to help you send cooler emails that your customers will love:

1. Playful Tone
Your subscribers aren't looking for a statistic-laden report on everything your company has been doing. If your emails are bone-dry, chances are your email list will dry up, too. A bit of fun can help keep your readers engaged, even if it's just part of the subject line.

The daily newsletters from BuzzFeed can give you a few pointers – they catch their reader's attention with a strong subject line that always relates to the content. For instance, they paired "Get Up! Get Up Now!" with a link to their article, "18 Sure-Fire Methods For Getting Out Of Bed In The Morning." Keep in mind, not all brands can afford to be quite as casual as BuzzFeed, but emails are a great place to try out some lighthearted humor.

2. Short and Sweet
Emails need great content, but not too much of it. Overwhelming your audience with content guarantees a sharp rise in unsubscribe rates, so you want to keep it snappy.

One expert in this particular area is theSkimm, which gives its subscribers a brief outline of the latest news. Each story has links to more in-depth coverage, but the decision to investigate further lies in the hand of the reader; the actual email is concise.

3. Modern Design
If your emails don't look good, your customers won't want to read them. Design is immensely important for emails, and it's even more so now with the prevalence of mobile devices. Not only does your email have to look clean on a computer screen, it also has to work on devices like smartphones or tablets.

Litmus, a company that tests marketing emails, uses simple but effective designs in their email newsletters. The colored boxes in this example clearly separate each section, and the design is formatted to work on a mobile layout as well.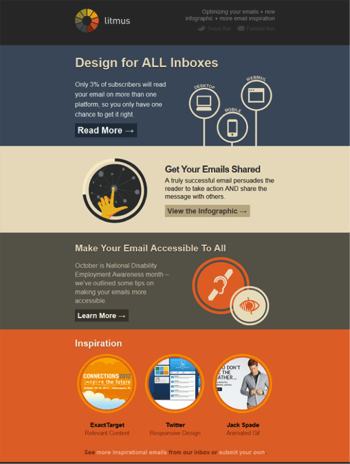 Image credit: HubSpot

4. Personal Touches
The best emails are the ones that make customers feel special or singled out. Email segmentation can take many forms, but one of the best ways to reach out to your readers is to use their name and their personal interests in the emails you send.

The podcast app Stitcher sends out emails that suggest new radio shows for its users based on what they're already listening to. Not only does this create a feeling of personal connection between the brand and each of its users, it's also incredibly helpful for anybody who wants new listening material!

By following these steps to writing better emails, you can brighten up your customers' days – and their inboxes – with content they'll read and love. Make sure emails reach and delight your customers by keeping these 4 tips in mind!

Looking to build up your email list? Find out the best tips and tricks to generate more leads!