The good thing about blogs is that anyone can have one. The bad thing about blogs is that anyone can have one!
That means that there are a lot of blogs out there on the Internet. According to Statista, as of October 2015, there are 260.5 million blogs online. That is A LOT of blogs!
With so many blogs out there, what distinguishes the good from the bad, the read from the unread? Is there such a thing as the perfect blog? Let's take a look.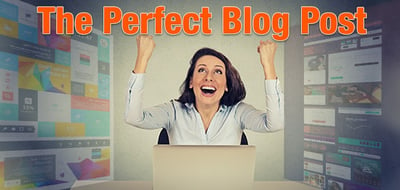 Does One Size Fit All?
Let's be honest, there is always going to be a difference of opinions regarding what constitutes the perfect blog post. With that in mind, we researched various sources and used our knowledge of marketing and social media to compose this list of the top criteria to consider.
So, with all that information in mind, let's evaluate this post. Visual Appeal? Well it's easy on the eyes and is easy to navigate so I would say yes. Voice? It has a playful approach that keeps the reader enthralled so we can check that one off. Strong Content? I have done appropriate research and curated an informative post so the informational content is strong. 'It' Factor? Let's let you, dear reader, be the judge of that.
Need help ensuring that your blog stands out and is being read, download this free guide to business blogging.