Digital marketing has changed dramatically over the last 15 years, primarily because technology has exploded during that same time frame.
Think back to 2001. You were not glued to your smartphone, and you certainly weren't binge watching several seasons of your favorite show on Netflix. Just to put things in context since a lot can happen in 15 years—especially in the technology era—2001 was the year that iTunes and the first generation iPod came out.
Beyond technology, what else has driven the changes in digital marketing and how does it compare to DM today? Let's do the time warp and see.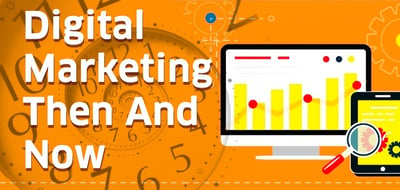 Social Media
Today, social media is ground zero for digital and inbound marketing. In 2001, however, social media was in its infancy starting with social sites such as MySpace and Friendster. Things did not truly begin to boom until later in the aughts with the advent of Facebook and LinkedIn, two of the major players in social media and digital marketing. With 1.65 billion monthly active users (Statista) now it is almost unheard of to not have a Facebook page, whereas in 2001 "the Facebook" was unheard of. Now, businesses of all shapes, sizes and industries use these platforms and others to draw users, enticing them with information, products, and services. What started out as a way to connect to friends has become a cultural juggernaut dominating the digital marketing landscape.
Mobile Technology
The success of social media is largely based on the advent and prevalence of mobile technology. More people access social media sites on mobile devices than on computer screens. "Mobile-based platforms also approach social networking in an entirely different fashion than their Web-based counterparts. Rather than offering a comprehensive social networking experience…they instead specialize in a specific kind of interaction service…People essentially use the various services in conjunction with other platforms to build a comprehensive, digital identity" (Digital Trends). This app-based approach means that marketers can reach consumers wherever they are, whenever they are online via multiple channels. Mobile technology has completely altered the shopping landscape.
Search Engines
Now marketers think in SEO and click-throughs, but in 2001 search engines were not the powerhouses they are today. Then, myriad search sites and directories (many now defunct) were trying to organize data and send users to the right place. It was a time of buying as much ad space as possible just to get noticed. But the advent of page rankings (thanks, Google!), search relevancy, and Internet indexing changed the landscape.
These changes led to targeted digital marketing based on keywords and buyer intent. Think back even 10 years ago. Did you immediately grab your phone to Google a new product you heard about? You might have conducted an online search and sifted through a bunch of data to find what you were seeking, but it certainly wasn't just a click away like today. Now you will be connected to a company's website and Twitter page as fast as your WiFi can take you.
Today's Landscape
As technology has developed so too have customer expectations—now shoppers demand a different level of marketing and nurturing before committing. And with so many options at our fingertips, marketers must continually come up with creative ideas to stand out from the masses.
"The modern consumer has a broader set of expectations and needs, starting with requiring timely, personalized buyer experiences that span multiple channels. Today, a shopper might visit a store to browse an item, research prices and reviews on their iPhone, solicit feedback from friends on Facebook, all before purchasing on their tablet" (Target Marketing Mag).
These expectations have open the door to new challenges and opportunities for marketers. Embracing change is not an option, it is a necessity.
Need to ramp up your social media presence? Find out how to attract customers with your Facebook page.