We like to consider ourselves connoisseurs of catchy blog titles. So, how do you go about capturing attention with catchy blog titles? While there are steps and helpful guidelines available, there are also websites that can help you generate titles. With a little information and topics, you can easily create attention-worthy blog titles with the help of these sites.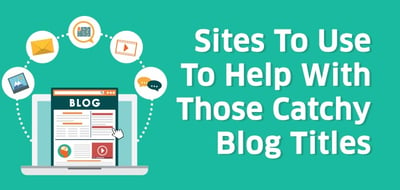 Just type in three words (nouns preferred) and this little wizard will conjure up a week's worth of blog titles just for you. It is not perfect, and you will want to tweak, but it's still pretty cool and very helpful. As a test, I used inbound marketing + email + leads and got five good options, including "10 Things Your Competitors Can Teach You About Leads."
Unlike, HubSpot, Portent only asks for one word/topic, but the (sometimes goofy) results are more visually appealing. They even include humorous call-outs for each title component. Along with your result, it also offers grammar tips and content strategy resources. Refresh as needed for better results. Using "inbound marketing" as a keyword, I got a few doozies but had fun in the process.
This site takes a completely different approach by not asking for any information. Simply press the "generate idea" button and you get a suggestion. Not the most targeted blog titles, but good for when you feel stuck for concepts. I randomly got "10 Things Your Competitors Can Teach You About…" which could apply to nearly any industry.
Not so much an idea generator as a topic analyzer, Buzzsumo lets you know what is hot and not. Again, I used "inbound marketing" as a test and quickly got a page of results showing me the most popular stories containing that term, including how many shares on Facebook, Twitter, and other social sites. This is helpful to see what is trending and what your competitors are up to. For more options sign up for the Pro version.
Similar to others above, this is a keyword- based content idea generator. It claims to help you "find good topics to write about and lets you generate content ideas that your audience reads and shares." Unfortunately, my entry of "inbound marketing" yielded no results…zero…none. Neither did "marketing" or "email." Total bummer.
Even though this one feels a little less sophisticated than some of the other ones, what I liked about it was that it gave me a ton of options, 25 to be exact. And, although some of them were pretty obtuse or downright hilarious, several were pretty good. My favorite: "7 Things Lady Gaga Has in Common with Inbound Marketing."
Overall, most of these sites are helpful for creating catchy blog titles, although some are probably better suited to edgier brands and social media hungry bloggers. Next time you feel stuck for topics or have an idea and are at a loss for words, give one or two of them a try. For the best results stick with HubSpot or Portent and use Buzzsumo for industry stats.
Now that you have help creating catchy titles, get the inside scoop on business blogging with our free guide.
http://www.responsiveinboundmarketing.com/blog/the-steps-we-take-to-create-these-catchy-blog-titles