We recently created a post detailing how to outshine the competition with inbound marketing strategies. One of the critical steps on that list discussed using a call to action to convert leads.
So, now that you know a call to action (CTA) is a marketing must-have, here is a more in-depth look at what they are, how they work, and how creating an actionable CTA will improve your margeting strategy.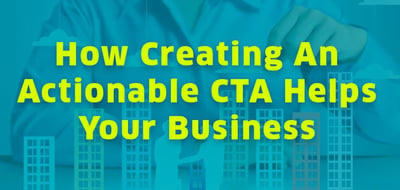 Issuing The Call
The CTA is where you convert visitors to leads by offering them something they need. The CTA lets you guide readers to the next step for more information: link to an article, highlight a product that will help them solve a problem, offer a free whitepaper download, or ask them to sign up for your monthly newsletter. Once you get potential clients to your site, you want to really hook them. Be sure to engage readers with action-orientate language in the CTA.
Capturing Attention
When a reader visits your website seeking information you must capture their attention quickly—in less than 10 seconds. We know that content must be properly balanced with visual appeal, but with sites bursting with information, offers, and links, many readers simply scan rather than actually read. So the CTA must stand out and grab their attention in a unique way. It needs to be content relevant, but visually distinctive enough that it stands out on the page. Put it in a location that makes sense with the content and is visually captivating.
Advanced Placement
As discussed above, websites are the most common place where businesses use CTAs. But, since they are versatile and customizable, you can use them in other ways to help your conversion rate optimization.
Website: A great way to capture lead information by offering a free download or additional relevant content. Balance actionable language with visual appeal.

Blog: Once a reader has gained a taste for the type of quality information on your blog, offer them the chance to get more of the good stuff. Since blogs cover a variety of topics, you often get new readers, which means new chances at converting unique visitors to leads. And, subject matter variety also enables you to mix up the CTAs, tailoring them to specific issues. In addition to putting the CTA at the bottom of the post, be sure to add it to the side bar as well since not everyone will read the entire post.

Email: While email may not longer be the marketing superstar that it once was, don't overlook this communication staple. We all use it—all day, every day—so make the most of your messages by including noticeable CTA.
A call to action is no longer just a good idea—it is a necessity. Once you have implementing this building block, be sure to test and measure results to determine how and where your audience is most responsive. Be creative, try different options, and discover how this important step can make a world of difference to your bottom line. So remember why and how creating an actionable CTA helps your business.
Want more awesome info like this? Download our free eBook on how to generate more leads!