Is anybody not on social media these days? Social media marketing can't be an afterthought in your overall marketing strategy when Facebook has 1.13 billion daily active users, 59% of Instagram users are on the platform daily, and 25% of adult internet users use LinkedIn. The chances are pretty good that the target customer for your SaaS company is on social media.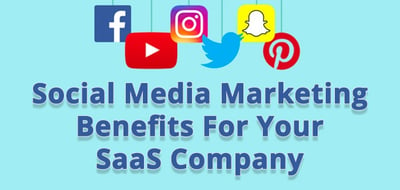 These are some of the other benefits you can expect from your social media marketing efforts.
Increase Brand Awareness
Social media is a perfect channel for increasing awareness and exposure for your brand. It provides another way for people to find your company as well. Especially for SaaS and other B2B companies, demonstrating your authority and leadership in your industry is important so that people will want to work with you. An active social media presence will help you to seem more trustworthy to potential customers. Share content that is relevant and interesting to your audience, and that also demonstrates your expertise in the industry.
Make sure that you add links to your social media profiles on your website and blog so that it is easy for people to follow you.
Drive Traffic To Your Website
You should be sharing content on social media regularly that links back to your website, which will help to drive traffic. Not only are you trying to educate your audience with valuable, relevant content, but you also want them to convert into leads. Vary the type of content you share between your own blog posts, content offers, images, and content from other sources. Video is taking over, so be sure to create and share your own videos often.
Also, don't forget to keep promotional posts to a minimum. A good rule of thumb is that only 20% of what you share should be self-promotional.
Improve Your Search Engine Ranking
Social media marketing provides another path leading back to your website, aside from keywords, that can improve your search engine rankings. Boosting engagement on social media by sharing the right kinds of content and posting consistently will help demonstrate your value. If people are sharing and interacting with your content on social media, search engines will recognize that the content is high quality, which is an important component in rankings.
Connect With Your Audience
Most people expect companies to be on social media, and it's a place for brands to build a relationship with their audience. You can show off your company's personality while also demonstrating the value of your products, which is especially important with a more complex SaaS product.
If that's not enough, a study published by Convince&Convert found that 53% of Americans who follow brands on social are more loyal to those brands. Creating this connection will make people more interested in doing business with your company, and will also lead to more loyal customers.
Cost Effective Advertising
One of the biggest benefits of social media marketing is that it is free and still gives you access to a wide audience. However, you can also boost your reach and exposure by strategically using ads on social media, and even then you don't need to have a huge budget to be successful.
Social ads also give you extensive targeting and segmentation options so you can focus on reaching the demographics that best fit your buyer personas.
Lead Generation
66% of marketers see lead generation benefits with social media by spending just six hours per week. Since most marketers are looking for ways to get more leads, social media is a great investment. You can use social media posts to educate your audience and help move them along the buyer's journey. Or you can generate leads by using lead capturing forms for offers directly within social posts.
Close More Sales
More than half of marketers who've been using social media for at least two years report it helped them to improve sales, according to Social Media Examiner. Plus, buyers who use social media have larger budgets -- typically 84% larger than the budgets of buyers who do not use social, reports HubSpot, so that can't hurt. Social media can also be an effective channel for identifying decision makers and opportunities, which is important to close SaaS sales.
Again, it's all about building trust and a connection with your audience and having them view your company as one they want to do business with.