In marketing, you can't just settle for hoping that your campaign worked; you need to be able to measure the results and make sure that you're getting the most return on your investment. The best way to keep track of how things are going is to regularly monitor your analytics.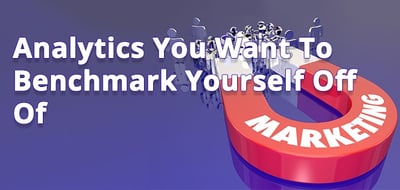 Benchmarking your analytics will be unique to your company, but you can do some research to see what others in your industry see on average. You'll need to start by figuring out where you are now. Then you can use that data to set realistic goals for where you'd like to be in the next month, quarter or year.
Make sure you're getting the most out of your inbound marketing efforts by tracking these analytics and using them to create benchmarks for your company.
Unique Website Visitors
Traffic to your website is essential to achieving your inbound marketing goals. More traffic and unique visitors to your website are more opportunities to generate leads and customers. In addition, you should also see what sources your traffic is coming from.
[DOWNLOAD]
Bounce Rate
Visitors who arrive on your website and leave without looking at any other pages do not demonstrate that your content or site is high quality or provided what they were looking for. You want visitors to be interested in exploring other pages on your website. An excellent bounce rate is between 26-40%, and 41-55% is about average.
Traffic-to-Lead Ratio
Along with measuring the traffic to your website, you want to know how many of those people are valuable to your business and have become a lead. The better your traffic-to-lead ratio, the easier it is to determine that you're attracting the right type of people to your website and content.
Conversion Rate
You should be monitoring the conversion rate on all of your landing pages and the clickthroughs on your CTAs. The goal is to see these pages generating leads. You can even optimize this and double your leads by switching out low performing CTAs for higher converting ones on your blog posts.
Customer Acquisition Cost
Knowing which channels generate the most customers, and at the lowest cost, means that you can focus your attention on those areas. You can calculate your customer acquisition cost by dividing all of the costs (marketing expenses) of acquiring new customers during a specific time period by the number of customers gained.
Sales Revenue
How much money did your marketing campaign bring in? Measuring revenue is important for every business. By tracking the sales revenue for individual campaigns, you can determine which campaigns actually generate customers so you can continue doing what works and make adjustments to what doesn't.
Return On Investment
You want to know that the money and resources you've been spending are getting results, right? This metric is key to proving the success of your marketing campaigns and ensuring that you can continue to justify your budget. You also want to know what has been successful so you can spend your budget in the right places.
Blog Traffic
Your blog can have a major impact on your organic traffic, and B2B companies that blog 11+ times per month see almost 3X more traffic than those blogging 0-1 times per month, according to HubSpot. Keep an eye on the number of visitors to your blog as well as which individual posts drive the most traffic.
Email Open Rate
For every email you send, one of the analytics to track is the open rate. You want to know who actually opened your email (and hopefully read it) of the people who received it. Increasing your open rates can lead to higher ROI and engagement. Try A/B testing your subject lines to improve your open rate.
Email Clickthrough Rate
One of the most important email marketing statistics to track is your clickthrough rate. Each email that is sent needs to have a specific goal and call to action. You want to see who has shown interest and is engaging with your email and content by clicking on the CTA and any other links that were included. This will help you to determine the success of the email.