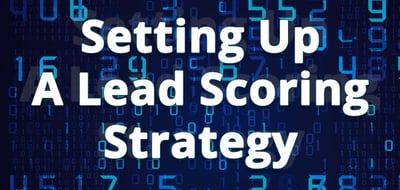 A lead scoring system is able to prioritize leads based on specific criteria and determine how likely a lead is to purchase from you. Once you set up the system, you will be able to develop sales strategies that target and nurture leads based on their assigned value. Use these 6 sets to lead scoring success. Don't forget about the importance of segmenting your target market into buyer personas! If you need help getting started check out the free Ebook below!


Identify Criteria
Before setting up your scoring system, you must first identify the criteria that represents an ideal lead. What type of information would you like to know about a lead, such as demographic information and job/company data? This data will be captured in landing page forms. Also, identify the various ways people can potentially interact with your business, such as opening an email, reading your blog, or downloading a white paper.
Target Your Audience
Look at the common characteristics of your target audience. These items are not intended to be minimum criteria, but rather common threads that run through your customer base so that you may identify your typical customer and their needs. This is a good place to get input from both sales and marketing for their unique perspectives on the market.
Set Up Values
Once you have determined what lead criteria is valuable to you, you can assign point values to particular items. Since not all attributes are of equal value, you will assign higher/lower scores based on what is most important to you. Assigning points makes more sense when you think in terms of the ideal buyer you identified.
Detailed Point System
Separate classification, which you can think of as the most important "must-haves," from qualifications and prioritizations. By delineating them, you can qualify the differences between the categories and their meaning, even if the values are the same.
Classification = 1,000 points: This is the base buyer persona score which you will build upon to determine how sales-worthy a lead is.
Qualification = 100 points: Each sales-qualified trigger is worth 100 points; these customer behaviors are added to the classification score.
Prioritization = 1-99 points: Assign a single or double-digit point value to different priority triggers based on importance. The last two digits indicate level of priority.
Depending on what CRM system you are using, the specific number system values may vary, but the premise is the same.
Set the Threshold
Sales and marketing should again work together to specify a number that indicates when a lead is sales-ready, meaning they are to be contacted by a sales person. Remember, the buyer journey—you don't want to pitch too early. A properly constructed lead scoring system should reflect the path of the sales funnel.
The Final Score
When setting up a lead scoring system, it is important to remember that it will require tweaks and adjustments at first. Don't think of it as a set-back, use this as an opportunity to assess how effective the system is at determining high-quality leads and refine it to better target this group.
Look at leads with the highest score, compare their similarities and differences as well as their buyer journeys. See what worked and what didn't and adjust the lead score threshold as needed. Once you begin using the scoring system, you will be able to see what must be refined.
Don't stop now! Keep reading for the greatest lead generation tips and techniques!