Through the public eye, Facebook is always taking center stage. And with a variety of new features and updates rolling out this year - from data app to increased security - users can explore new ways to interact with others!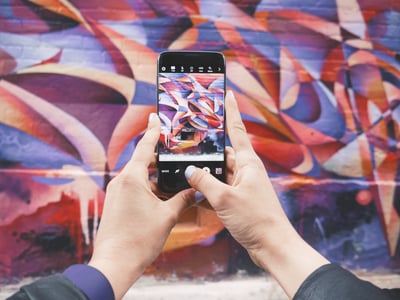 When Facebook bought Instagram for $1 billion in 2012, they made one of the best decisions. Why?Instagram is now a top social networking app, and could be worth 100 times more than Facebook. Now that Instagram boasts over 1 billion users per day, let's take a look at how it drives Facebook's growth.
[DOWNLOAD]
5 Reasons Why Instagram Helps Drive Facebook's Growth
1. Awesome New Features
Instagram regularly add new features. Just this past year, Instagram has developed new ways to enjoy the app, such as Instagram TV (IGTV) where users can upload video content that can run up to an hour long.
"Right now we're focused on building engagement, and there are no ads on IGTV from Day One," said Instagram CEO Kevin Systrom.
Other features that keep users on their toes is the new questionnaire tool. A user may ask another user a question and the answer may be posted anonymously, adding music to a user's story, stylized mentions, stickers and gifs, with many more unique abilities to spice up a user's experience.
2. Eye-Catching Platform
Compared to other social networking platforms, such as Twitter where the main focus is on words, Instagram is a visual platform.
Studies show that the most successful type of content is image and video, thus making Instagram an easy way to catch someone's attention. We can also say the same for YouTube, but it can't compete with Instagram's image-focused appeal.
3. New Advertising Revenue
One of Facebook's primary goals was to take advertisements and turn them into content. Though Facebook has their own version of ads by placing them on the far right side, Instagram's ads are content-based. They appear directly on a user's feed as they scroll through people's images. This strategy is aimed at increasing ad engagement and allows Facebook to charge more money for each one placed.
4. Booming Success
Did you know Instagram holds twice as many users as Twitter and Snapchat? This easily helps contribute to Facebook's revenue.
According to data by eMarketer, Instagram's US user base is expected to increase by 13% in 2018, while Facebook is anticipated to increase by only 2%. However, the partnership of the two may help change this.
5. All About the Stories
Instagram stories have played a huge part in the growth of the platform. In fact, Snapchat has waned in popularity since Instagram has taken the reigns in delivering a journey into disappearing stories. This essentially helps Facebook take back the younger demographic and capture different audiences. Since the growth of Instagram stories, Facebook's stock has skyrocketed!
Looking to implement Instagram into your next social media marketing campaign? Find out how in our guide.