If a free opportunity came your way that would help grow your business, would you take it? No catch. You'd just need to add your company details to an online profile, infuse your brand personality, and a little strategy, and you're good to go.
Don't underestimate the power of Linkedin. It's great for B2B marketing, offering a lot of opportunities to connect and build relationships—63 million decision-makers are on it, after all.
Plus, it's the top-rated social network for generating leads. Did you know that 46% of social media traffic to company websites comes from LinkedIn?
Free exposure, networking, lead generation, customer engagement, even staffing should make any business want to ask "How can I get the most out of this valuable tool?"
Before hitting the Share button to post something, however, take a good look at your page and make sure it ticks all the right boxes. Which brings us to our next point…
Using LinkedIn in 2020: Visibility Creates Opportunity
It would be tough to build your own network with other leaders in your industry without a detailed profile, or worse, one that's out-of-date.
As the heart and soul of your brand, your LinkedIn business profile needs to make a great first impression. It's not enough to slap on a logo and an "about us" section and call it a day. What makes your brand special and why does your audience care? Every company has a story, and the best way to showcase it is by using a consistent voice that makes you relatable. You know, talk human.
You'll also want to give your profile a boost in the search department. In other words, optimize it to make it easier for Google and other search engines to index it in their search results. More on that later.
So, whether you're creating your profile from scratch or beefing up an existing one, these tips can go a long way toward increasing your visibility.
1. Fill Out All Key Fields
Fully completed LinkedIn pages get 30% more views.
The more info you provide search engines, the better. Indicate your industry, company size and type, location and the year your company was founded.
You'll then want to provide an overview which tells your business's story. Make it compelling, answering basic questions such as:
Of course, this should be followed by a link to your company website for people to find out more! To help you out, look at the profiles of your competitors. This could give you ideas as to how to stand out.
2. Use a Call-to-Action
LinkedIn gives you the option to add a custom CTA button that allows people to engage with you in different ways. Aside from its standard "Follow" button, you have the choice of several CTAs such as:
Contact us

Learn more

Sign up

Visit website

Register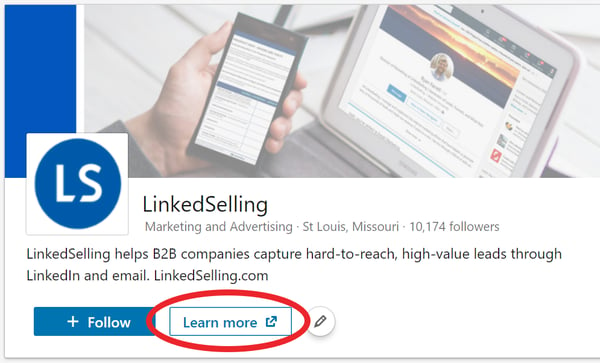 With these buttons, LinkedIn provides analytics which helps you see how your CTA performs. Here's what it looks like when you add a custom button for your page: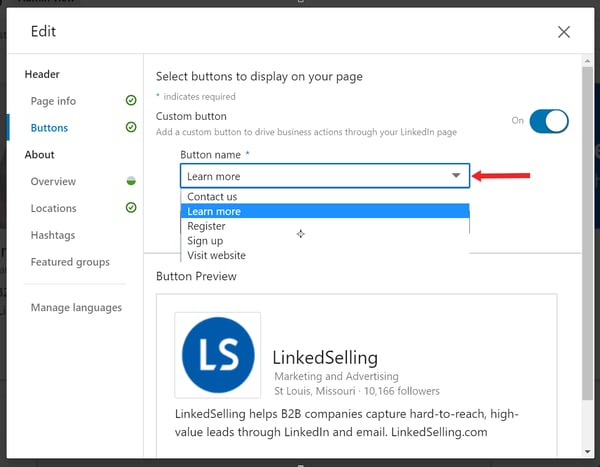 3. Include Relevant Keywords
As we mentioned before, you've got to give your profile a boost in visibility.
To make it easier for people and search engines to find you, incorporate keywords in your description and throughout the page. These keywords should be relevant to your business, expertise and what you provide. Remember to use them in a natural way.
For more on search engine optimization (SEO), check out this blog post on how to make the most of keywords in 2020 here.
4. Add a Creative Banner
It goes without saying that your company logo and cover image are important. They're visual representations of your brand and capture the feel of your business. Use the banner space (above your company logo) as an opportunity to be creative. Here you can push your brand messaging or reinforce who you are.
Sizing:
Bonus: More Tips from Us!
If you'd like to learn more about how to transform your page to get quality visitors and leads, check out our visual guide. It'll tell you how to create a high-performing one and make it work for you.