You know it, we know it—social media plays an integral role in the world of marketing. With billions of people using social media platforms on a daily basis, it's the perfect opportunity for any business to promote their brand, drive traffic to their website, interact with customers and attract new ones—ultimately leading to growth.
To be truly successful at using social media for business marketing, it helps to have a strategy that fosters strong engagement. You can measure the effectiveness of your social media campaigns or posts in the form of:
Likes

Shares/Retweets

Comments

Follows

Click-throughs
Follow some of our tips and tactics to boost your social media engagement.
Answer Questions, Reply to Comments, Provide Customer Support
Let's face it. Nobody wants to follow or interact with a brand on social media that's unresponsive, inactive and impersonal.
Showing your audience that there's a real person behind your account can make all the difference. Social networking in business is going beyond your brand-centric approach, logo and tagline and offering real value that helps build meaningful customer relationships and loyalty.
One way to shed the "cold and faceless corporation" image is by listening more, and not just talking about your brand. By always having an ear to what your clients and prospects are saying on your accounts, you'll not only learn about their needs but you'll also be able to jump in when needed to show them you care.
Here's an example of what we mean. Nike takes the time to consistently answer questions and lend a helping hand on their Twitter account. These practices let people know the company is always available for their customers.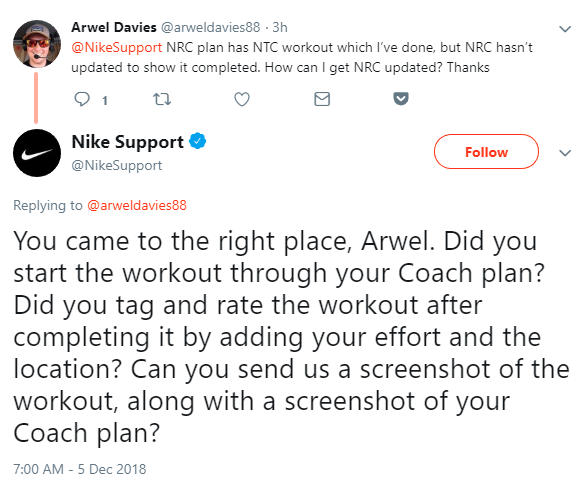 Source: Hootsuite
Show Your Company Culture
It's good to post links to your blog articles and offerings—in fact, it should be part of your social media marketing strategy. But when it comes to engagement, don't rule out the opportunity to show off your company culture and your core values that drive success.
It doesn't matter if you don't have a ping pong table or a room with a beer keg. Giving people an inside look at what your company is all about can be as simple as posting a random snapshot of your employees having a team huddle or participating in a team bonding activity.
If your company offers remote work options, emphasize this perk of the job by sharing multiple images in a single post showing employees working from home, like in this example: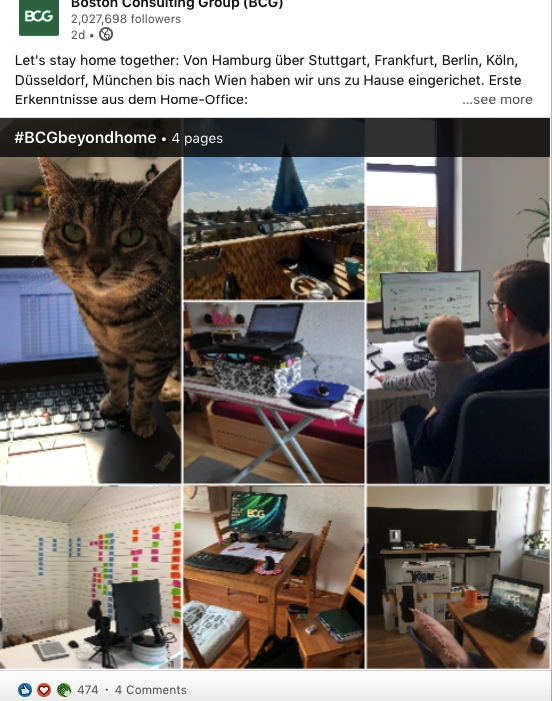 Use a Call-to-Action
To maximize the returns on your investment in social media, prompt users to take a specific action on your social update. Depending on the goal you want to achieve for a single post, you can increase engagement or even enhance your conversion rate by leading them to your landing pages, asking them to comment on your post, reading more, signing up, watching a video, or anything else.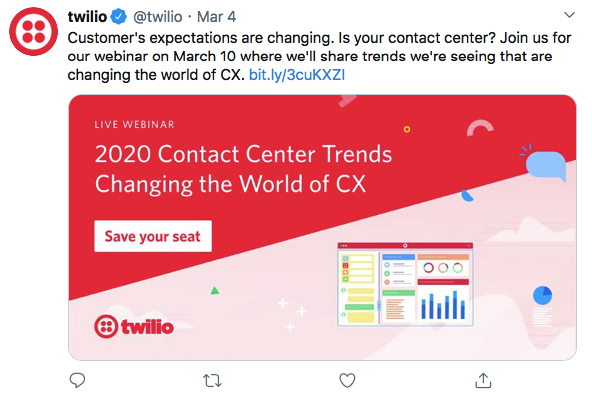 Post Consistently
It's important to stay active across all your social media channels. There are several reasons for this.
For starters, you want to keep your audience up to date on your activities and the latest trends. Likewise, you want to post relevant and quality content regularly. That's because posts often have a short shelf life, especially Facebook and Twitter. As you can imagine, a sea of content is constantly being uploaded all over these channels.
In order to surf the social media wave, it's recommended to post up to 2 times a day on Facebook, 5-10 times a day on Twitter and once a day on LinkedIn.
Source: HubSpot
Share Your Tips
These are just a few ways to engage your social media audience. What creative tactics have you found works for you when it comes to delighting your online tribe? We'd love to hear them.
Indeed, using social media marketing to drive engagement and brand awareness takes time and effort. The foundation for success, however, comes from a solid page. We've created this free guide to help you create your LinkedIn page from scratch or re-design an existing one! Check it out below.