HubSpot's applications are designed to help businesses like yours implement and manage various sales communications, business processes and customer information on your website. Smart and easy, HubSpot CRM provides sales tools that can make your interactions more efficient, effective and personal.
In a previous blog post, we described the buyer's journey. While easy to understand, it's a challenge to not only attract people, but also to push them down the sales funnel and increase conversions.
[DOWNLOAD]
However, a study by RAIN Group Center for Sales Research discovered that:
Buyers want to hear from sales reps in the first stage of the buyer's journey when they're looking for opportunities to improve their business (71%) or trying to solve a problem (62%).
Here are just a few time-saving sales tools you can add to your communication strategies.
3 Ways You Can Reach Out to Prospects in Your HubSpot CRM
1. Chatbot
Live chat or chatbots provide immediate customer service. It's an alternative way to avoiding call transfers and holds. In fact, Gartner predicts that by 2020, customers will manage 85% of their relationship with a company without interacting with a single human.
With HubSpot's chatbot tool, you can automate and scale the chat conversations on your website the way you want. For example, you can set up your bots to help you schedule meetings, answer common customer support questions, and attend to your customers' various needs. All to improve your response rate and act as your virtual assistant.
Live chat helps to win more customers faster
Today, people expect to connect with you in real time. Through live chat, you're opening the door for more business by making it easy for your visitors, prospects and customers to contact you. This way, you can land more meetings without having to deal with back and forth emails.
Use this guide to create a bot in HubSpot.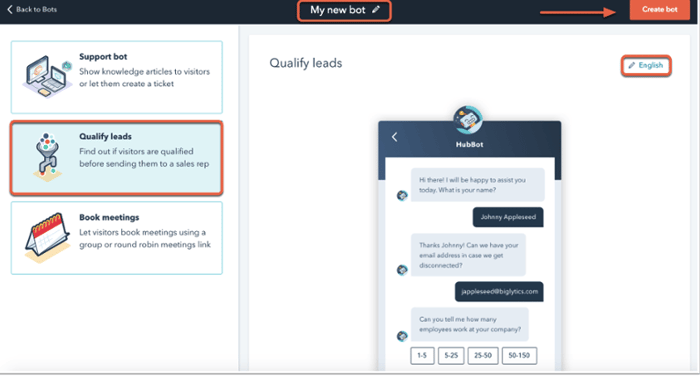 2. Sequences
You know those repetitive sales and marketing emails that you find yourself writing up over and over? Why not automate them and save time?
Email sequences are automated and tailored to your prospect's needs and interests so that they can be moved along a journey. The emails are both time-based and triggered. For example, if a visitor downloads an eBook from your website, a series of emails will follow up with that prospect that contain more relevant content and offers.
Deepen the relationships you have with prospects over time
When you start creating your best automated series of follow-up sequence emails, you can personalize and optimize them wherever you can to get higher conversion rates.
Check out this guide to learn how to write effective sequence emails to move prospects along your sales funnel.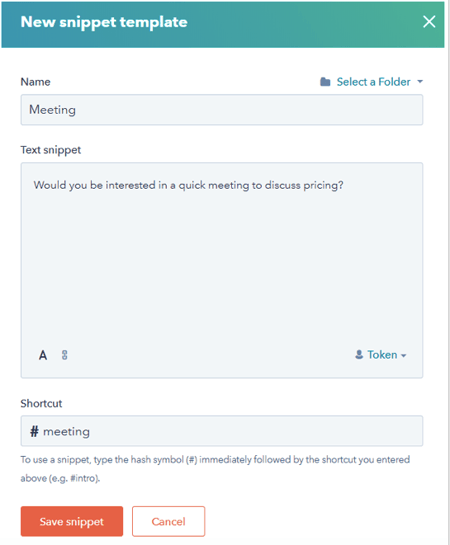 3. Snippets
When emailing prospects is a big part of your day, you'll want a shortcut to fill in the blank spaces of your messages.
Snippets are a great way to simplify your sales communication. The snippet tool lets you create reusable text in your messages or live chats.
Learn more about snippets and how you can create them in HubSpot in this guide.
Ready to Explore More Tools to Boost Results & Efficiency?
Every SMB owner can benefit from a CRM platform like HubSpot to manage all of their relationships with leads and customers. In addition to chatbots, sequences and snippets, your sales suite of tools includes:
Meetings

Documents

Workflows

Prospects

Templates
Activity feed
Click below to try HubSpot free for 30 days!