Does your content marketing need a boost? Software like HubSpot have lots of great inbound marketing functionalities that are designed to help you grow your site's traffic, convert leads and run campaigns—From blogging to social media to email and landing pages. If you're wondering whether inbound marketing tactics are worth the time and effort, here's the proof.
According to a

survey

by Demand Gen Report, 96% of B2B buyers want content from industry thought-leaders to help with their buying decisions.
The same survey also shows that 47% of buyers view three to five pieces of content before their first touchpoint with a sales rep.

[DOWNLOAD]
Using an inbound marketing software system will help you and your team build marketing strategies and measure performance. HubSpot, for example, is super easy to use and lets you quickly set up lead generation campaigns. Take a look at the following strategies you can use to target and reach your audience faster.

Wondering how to make the most out of HubSpot for free? Read this blog post to discover some of its great features.
Simple Ways to Optimize Your Site for Lead Generation
1. Add lead generation forms to the pages that get the most traffic
It's important to identify which pages of your website are getting most of your visitors. That way you can update these pages and make them into lead generators. To learn where your leads are coming from, you can use your analytical tool to track this.

Add a lead-capture form to solicit your visitor's contact information.
2. Use best practices for your calls-to-action
When it comes to a simple CTA button, there's more than meets the eye. Effective CTAs are those you can't help but click. But what makes them work? Consider these elements: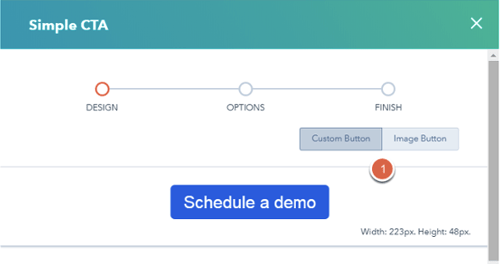 Color - use contrasting colors from your site.
Placement - Feature your CTA above the fold and in prominent areas where the visitor can see it. On a blog, add a text-only CTA in the middle of the post, known as an anchor text CTA. You can also provide more than one chance to click the CTA throughout a page.
Message - You're limited to a few compelling words to encourage clicks. Examples: "Sign Up for Free," "Join Free for a Month," "Give It a Try Today."
Testing - Perform A/B tests to compare two version of a CTA to see which one performs better based on statistics.
Follow this guide to learn how to create a CTA in HubSpot.
3. Add a live chat service or chatbot to your website
Different support channels on your website can be a conversion booster, and none do it better than live chat services. See for yourself:

Live chat (or bots) provides visitors the option to communicate with you or a team member instantly. What's your take on developing a live chat service to your website?

Get More

Customers

to Your Website
Excited about the prospect of winning customers with more inbound marketing tactics? Reach out for a free assessment of your site.