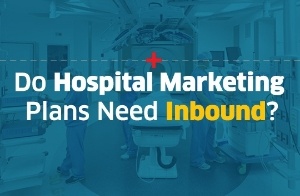 Should you consider inbound when marketing hospitals? In short, yes. Our world is changing. Healthcare and hospitals are at the forefront of this change and are the subject of many contentious national conversations. In a chaotic environment like this, it is more important than ever to separate yourself from the pack, and to attract patients to your hospital and its services. Old marketing models for hospitals relied heavily on personal references, advertisements, and professional references. In today's society, with the increased presence of the Internet and the vast amount of individuals who are merely a click away from sharing their experience with the entire world, this way of staying afloat has effectively imploded and you might find yourself asking, "What do we do next?"


So what then? How do you stay relevant and keep patients coming to you?
Well, the answer lies in inbound marketing. Here are 3 reasons why inbound marketing works for hospitals:


1. IT BRINGS CUSTOMERS TO YOU
Inbound marketing relies on CONTENT to increase the flow of traffic on your website and social media accounts. Creating quality content—blogs, videos, and podcasts—reinforces the patient viewing you as a resource. Hospitals are in a particularly great position here, being staffed by many knowledgeable, highly educated people, and filled with patients receiving great care who may want to share their positive experience with others.
Take advantage of your own hard work, show off the high caliber of your professional staff, and make sure your content lets patients know that YOU are the hospital they need when help is needed most.


2. IT SIMPLIFIES THE GENERATION OF LEADS
After you attract patients to your website or social media accounts with your high quality content, it becomes very easy to turn them into leads through things like free offers for more exclusive content, or even interactive healthcare questionnaires. This not only keeps the potential patient fully engaged, it also leaves you with a cache of information about them, allowing you to offer your most personally contoured services to them.
Over time, this can help you gather information about the type of services that patients are looking for, and what types of services are most in-demand. This can be helpful for things like restructuring the administrative setup of your hospital, and even learning what it is your hospital is best at doing! This type of information is highly valuable as it helps you to tailor your marketing efforts to best suit what's being asked for!


3. IT INCREASES WORD OF MOUTH
If your customer walks away from your site feeling educated by their experience, then they are much more likely to share that experience and send more individuals your way, providing more opportunity for you to gather information and generate a large backlog of targeted leads.
This type of relationship between patient and provider lessens the reality that care is being "sold" to them. It is no longer transactional, rather it's service-based, where the customer is going to a trustworthy partner in the journey to improve and maintain their health. People's well-being is important to them, the least you can do is let them know you feel the same way! The quality content and personalized conversation you provide goes a long way in helping the customer recognize this.
As you can see, refocusing your marketing efforts using inbound techniques does four major things: It increases your patient outreach, educates your clientele, builds your referral base, and ultimately increases your number of patients. These are all incredibly important if you intend to have your hospital remain a vital part of the national conversation about health and services.
Want more proof that inbound works for healthcare organizations? Read our free white paper to learn more!