In a world dominated by Facebook and Twitter, it can be easy to overlook some of the best networking sites available to your business.
For example, from a business perspective, LinkedIn boasts a myriad of possibilities for networking, growing your business, and reaching prospective clients. Don't get too distracted by flashier social media options like YouTube and forget about this valuable site. Keep reading to find out how LinkedIn posts get you business.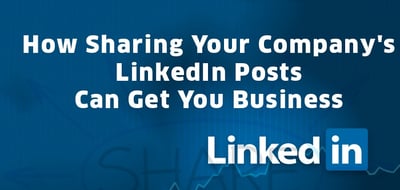 1. Look the Part
If you want to be taken seriously, you must appear professional. Throwing up a LinkedIn page just to have one is not recommended, especially if you're sharing your company's LinkedIn posts. Not only will it waste time (because you are going to have to go back later and fix it), but it can also negatively affect your brand. Someone researching your company will come across your sad, haphazard LinkedIn page and immediately be turned off. So all the time and effort you spent building a great business is nullified by a lame LI page. Take the time—it can be just a few hours—to make sure your page is robust with appropriate graphics, informative content, and pertinent contact information.
2. Build Your Network
Remember, this is the bread and butter of LinkedIn. Look for and reach out to people and businesses from similar industries and interest groups. Yes, some of your competitors will be on there, but don't worry. Use it to your advantage: take a look at what they do well or poorly and learn from it. Connect with colleagues, employees, clients and friends and see who they can link you too. Ask for recommendations or "introductions" on the site. Use the available "follow" plugin. If you are not currently reaching your target audience, think about how the site can help you better connect with them. And be sure that you are providing meaningful content that they will be interested in.
3. Brag a Little
Was your company just voted one of the top places to work for professionals under 40? Are you "one to watch" in the tech arena? Well, brag a little! If you do something great, let your network know…so they can let their networks know!
This is so important for small- to medium-sized businesses with small budgets because it is essentially free publicity. Sometimes people feel uncomfortable tooting their own horn. Don't! If you don't tell people how great you are then who will? Please note: don't be obnoxious or cocky. Tout legitimate achievements in a respectful way.
4. Make it Count
On a final note, here is a quote from Inc.'s Kevin Daum that sums up the value of LinkedIn quite simply, "Don't treat LinkedIn as a chore that you have to just keep up. This is the best networking tool available today, and it's absolutely free. Dedicate real time and effort to make the most of your connections, and you'll establish worthwhile, long-term relationships." So don't let your LinkedIn page slip through the cracks. If you're able to fill out your page so that's it's well-rounded, your company will thank you.
If you enjoyed these tips, download our free guide to social media marketing!