If your company has hopped on board the content marketing wagon, you're in good company. 93% of B2B marketers use content marketing. Used with other components of an inbound marketing strategy, content marketing has become a powerful tool to grow your business. It's no wonder so many companies see its value when it costs 62% less than traditional marketing, but still generates 3x the leads, according to DemandMetric.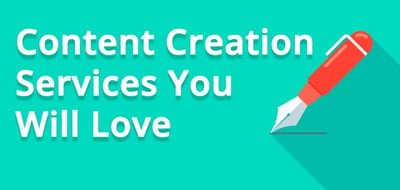 It's clear that content marketing is a valuable strategy to reach your target audience and generate leads for your business. This also means that content creation has become crucial; your strategy doesn't work without it.
[DOWNLOAD]
There as so many different types of content you could (and should) be producing: video, infographics, blogs, ebooks, social media and more. This can be overwhelming for a team of any size to manage. Especially when you want to produce remarkable content that resonates with your audience.
Many marketing teams struggle with having the time and resources to produce enough original content, as well as to create content that is engaging, even if your industry is not so attractive or "boring." Content needs to be a top priority. Consistency is key, and in order to see substantial results, you'll need to make the commitment. Adequate time needs to be set aside each day, week, and month to produce content to support your strategy. This is why 73% of major organizations hire someone to manage their content marketing strategy, reports Content Marketing Institute.
If your team is already stretched too thin, it may be necessary to consider other options for your content creation services. Outsourcing the work is a popular option. Curata research found that 17% of marketers are turning to freelance writers for high quality and relevant content.
5 Main Options For Content Creation Services:
Marketing Agency

Freelancers

In-house content writer

Content marketplace

Guest posts through an influencer network
When selecting any of these options, you'll need to decide what your goals are, especially when choosing to outsource content creation services. Are you looking for help producing a higher volume of content? Or are you looking to add a few in-depth pieces? Simply producing content for the sake of producing it won't help your business and is not an effective objective for your strategy. You'll need to ensure that anything created by an outside source is the right quality and meets your standards. It won't do you any good if it isn't any good.
A marketing agency that offers the right inbound marketing services should come with a team of writers and other marketing experts that can learn your business and provide suggestions for improvement, as well as optimized, high quality content. Marketplaces such as Skyword, WriterAccess, or Contently essentially connect businesses with freelancers, which can be an affordable choice. Independent freelancers can also help pick up the extra work that your in-house team isn't able to do. Reaching out to influencers or thought leaders in your industry to write a guest post for your blog can expand the reach of your content and audience, but is not a viable long-term solution.
What Types Of Content Should You Create?
These are the main types of content that you need to spend your time creating. In addition, you'll need someone to take care of any editing and proofreading, as well as to ensure that each piece of content is optimized and follows SEO best practices. HubSpot research found that 43% of consumers want to see more video from marketers in the future, so if it isn't already part of your strategy the benefit of video for your business is worth the investment.
72% of marketers are producing more content than they did last year, reports Neil Patel. If you feel like you should be creating more content, but are struggling to find the time or resources, consider these content creation services instead.