Every so often, Google tweaks its algorithm to keep up with changes in the way people search for information on the Internet.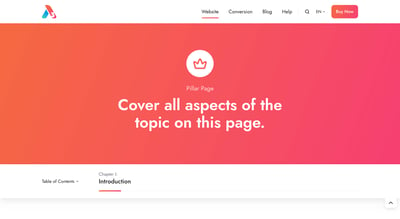 According to HubSpot, 64% of search queries contain four words or more.
In addition, people are specifying what they're looking for in search engines, making marketers change the way they deliver content to stay ahead in blogger and SEO best practices.
Enter the pillar page.
[DOWNLOAD]
A Pillar Page is made up of topics and subtopics
The web is driven by a sea of content, which puts more demand on the way marketers target search queries to get people to click on their web pages. A pillar page generally comprises of the following elements:
Content that comprehensively covers a topic in depth and subtopics.
Has links to other high-quality content.
Optimized for visit-to-lead and lead-to-customer conversion.
A downloadable offer, such as an eBook or whitepaper, that's relative to the topic.
How long is a pillar page?
Think of a pillar page as the support beams of your website. A content pillar runs longer than an average blog post and focuses on a core topic, but broad enough to dig deep into - subtopics.
Here's a great example. Take a look at Typeform's pillar page about customer success.

Photo Credit: Typeform
As you scroll through the guide, you'll notice how it's optimized for SEO and conversion with call-to-action buttons scattered throughout the content. It even has a sticky menu on the left-hand side that allows you to navigate faster. The guide has the following main components:
Pillar content page
Topic clusters (subtopics)
Hyperlinks (imbedded in subtopics)
However, if you're planning on creating long-form content like Typeform's, you might want to make it downloadable for the reader to revisit later.
How to adapt to search engine changes
Staying on top of Google's algorithm and user search behavior can feel a lot like you're running a marathon. Planning an SEO strategy is like building your roadmap so that you meet your end goal - at a healthy pace.
The purpose of a pillar page is to create valuable and effective content to convert visitors into leads and customers. It's also an effective way to provide a more positive and interactive user experience. With pillar content, your site's architecture is uniquely organized with the visitor's needs in mind —because that's the most important thing.
Have a burning question about topic clusters and pillar pages?
Ask us in our chat. You can always benefit from our marketing expertise in just a few clicks!