Google doesn't care about your company. They care about searchers. So SEO plays a crucial role in getting your website and content found online. If you want to be successful, you need to optimize your website and follow SEO best practices.
But beyond the technical aspects of SEO, you need to create content that people want to read, watch and engage with first, and then make sure that it is optimized for search.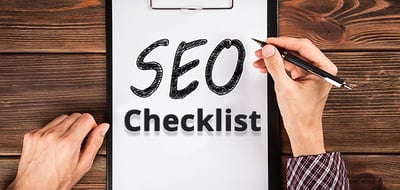 You also need to be aware of the user experience and design. Does your page include images and videos? Is content broken up using headings and bullets, and is there enough whitespace? Are there popups, sidebars, ads or anything else that may be distracting or disruptive to the visitor?
Keep these things in mind to create great content and then follow these guidelines to make sure that you are on track. Take a look at our SEO checklist:
Keyword Research


One of the key first steps to optimize your website is to know what keywords will work for your business. Google's Keyword Planner and other tools can help you to identify potential keywords. You can also look at your competitors and in search engine results to get ideas. Thanks to RankBrain and other

recent Google SEO updates

, the context behind a searcher's intent is important as well, not just the exact keywords.

H1 Tags


H1 tags help search engines to understand what your page is about. This is essentially the title of your page that will appear in search results, and should also be the first thing that visitors see when they land on the page. Keep it around 60-65 characters, and be sure to include a keyword.

Meta Descriptions


Every page on your website needs to have a meta description that include the keyword you want to rank for on that page. They should be around 155-160 characters in length and give people an idea of what the content is on the page that will make them want to click through.

Internal Links


Be sure to link to other relevant pages on your website. This helps to create connections between the pages on your website, which is helpful for readers and for search engines to follow. As

topic clusters become a new model for organizing your content

creation, you'll want to use anchor text strategically for these links. The hyperlink for a page should have keywords or phrases that explain what the link is about.

Include Alt Text For Images


Search engines can't read images, so you need to include alt text that describes what the image is. Don't try to stuff in keywords, but you can include a keyword if it naturally fits in with the image description.

Site Page Speed


40% of people abandon a website

that takes more than 3 seconds to load, so this isn't something to ignore to help optimize your website. Use Google PageSpeed Insights to find out how well your web pages load. You want a score of at least 85/100,

says Neil Patel

.

Have A Responsive Site


This one should be pretty basic at this point, but make sure all of your website looks good on desktop and on mobile. This is especially important since more Google searches take place on mobile devices than on computers in the U.S.,

reports HubSpot

.

Create A Sitemap


A Sitemap is a complete list of the pages on your website. It ensures that Google knows about each page so that it will be crawled, which will help to optimize your website

and get it to show up in search results. If you don't already have a Sitemap, you'll need to create one, which is often as simple as installing a plugin. Once the Sitemap is completed, it should be submitted to Google through Google Search Console.

Create a Robots.txt File


The

robots.txt file

is created by webmasters to tell search engines which pages to crawl on the website and if there are any they should ignore. If you have a page that only needs to be accessed by people at your company, for example, you could create instructions that disallow search engines from crawling that page and indexing it to be ranked. The location of your Sitemap is usually included in the robots.txt file.

Secure Your Website


Google has given

websites until October to switch to HTTPS

. After that, Chrome will display a "not secure" warning next to HTTP pages. The HTTPS designation is important because it protects visitors from potential hackers by encrypting their connection to keep data secure.