Marketing and sales can often seem like groups that can't get on the same page ─ heck, they're not even reading the same book. But at the end of the day, both marketing and sales want the same thing; to drive revenue for the company. When you align sales and marketing, and both teams are able to communicate and work to support each other, everyone benefits.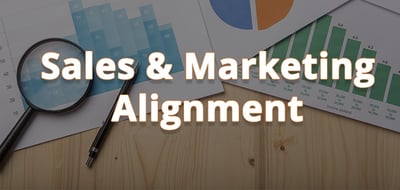 Use these steps to improve the relationship between sales and marketing.
Create A Service-Level Agreement
This is one of the most important steps you can take to align sales and marketing for your business. Organizations with an SLA are 3X as likely to be effective, but only 22% actually have a formal SLA between marketing and sales, according to the 2017 State of Inbound. A service-level agreement allows sales and marketing to define marketing goals, and the sales actions that will result.
For example, marketing has the goal of generating more leads, and should set a specific target number. This is especially helpful since sales is used to dealing with numbers and quotas. Sales then has the steps they will take once a lead is defined as sales qualified. These steps, processes, and goals are outlined in the SLA.
Your SLA should also define what qualifies as a marketing qualified lead and sales qualified lead, and at what point a lead will be passed off to sales. This should be considered as part of the goals that are set by marketing.
Prioritize Communication
So often part of the reason that sales and marketing just aren't in sync is because they don't communicate with each other and work completely separately. A lack of communication leads to conflicting priorities. You can better align sales and marketing by opening the lines of communication. This will likely need to start at the leadership level, but it doesn't have to stop there.
Leadership from both marketing and sales will need to agree that better communication is important, and take steps to open the dialogue such as by attending meetings regularly. It can be helpful to have team members from marketing and sales meet together as well.
Share Goals
When sales and marketing are always working towards different objectives, issues arise. Sales will not be happy with the leads they get from marketing, and marketing may run campaigns that go in a different direction.
81% of marketers with an SLA think their marketing strategy is effective, reports HubSpot, which is another reason these teams should work together. Both teams need to set SMART goals and share them with each other. You will also have common goals that are outlined in your SLA. This way, both teams are accountable for success. This will also help you to prove the ROI of your marketing efforts and how they have impacted revenue.
Use Your Strengths
Sales and marketing both have their own strengths and knowledge base. So share that with each other. What does sales need from marketing in order to be more successful? What can marketing learn about customers from talking to the sales team?
Especially when it comes to your content marketing strategy, the sales team can be a huge asset. They understand what customers are looking for and what their most common concerns are. Be sure that sales has access to all of the content assets that marketing is creating.
Also, let sales know when marketing is running a new campaign or promotion so they can use it in their conversations with prospects.
Get To Know Each Other
Don't underestimate the power of a fun activity to break down barriers between teams and help to align sales and marketing. Organizing a few social events where sales and marketing team members can just get to know each other in a casual environment will help them to be more comfortable in the office.
You can also arrange more structured events like having marketing listen in on a sales call, or having sales attend a marketing content brainstorming session. The more opportunities that sales and marketing have to interact, the better they will be able to work together.
Need a tool that will help you do just that? Check out HubSpot's free trial!