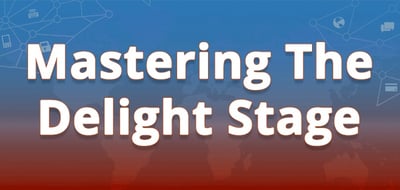 By now, you should know that prioritizing each of the 4 stages of the inbound marketing methodology - Attract, Convert, Close, and Delight - is critical to the buyer's journey. So, you've made your sale and your hard work has paid off. Job well done! But it doesn't end there.
You want to keep your customer happy, right? Well, interestingly enough, the stage that brings greater return on investment is also one of the most neglected: the delight stage.
It's simple, delight your clients and they'll most likely become your fans and promoters, contributing to your brand's growth and sharing your information with their social networks or by good old word-of-mouth. Remember that the delight stage is customer-centric, so if you nurture and grow your customer base, even after the sale, they'll come back for more. There are several ways to keep in touch.
1. EMAIL NURTURING & MARKETING
Just like any relationship, building a successful and long lasting rapport with your customer means communicating effectively and consistently. Grab your segmented email list and your relevant content and share away! Keep in mind that segmented emails get 50% more clicks than their untargeted counterparts which basically means it's important that you deliver the right message to the right person. Get them clicking on valuable and relevant content tailored just for them in the form of:
White papers on advanced topics

Webinars

Demo videos

How-to videos

Newsletters

Event announcements

Tips on how they can benefit on your products and services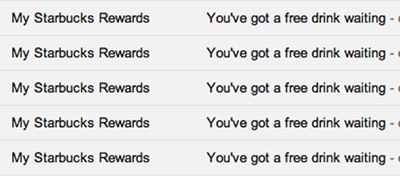 Sometimes, it's the small things that matter. The delight stage can involve the most minute details, and if done right, it can increase retention. Just think of how you can design an email that can make your customer's day. Starbucks knows a thing or two when it comes to enhancing the customer experience and brand loyalty. Through their rewards program they delight their customers by sending them good news to their inbox. The result: a very happy customer.
2. CUSTOMER ENGAGEMENT CAMPAIGNS
If you have a better understanding of what your customers think, you'll not only be in better touch with them, but you'll also identify the area in which to grow and improve. Market research surveys, questionnaires, and focus groups can be powerful tools to help shape your business using customer feedback by finding out what they want. Keep in mind that engaging millennials will require a more different approach: make your surveys brief on account of their short attention spans and create more media-savvy collaborations like encouraging the use of a specific hashtag. Ikea uses experiential marketing where they create highly interactive engagement campaigns by installing furnished panels for customers to get an eyeful and a feel of their products.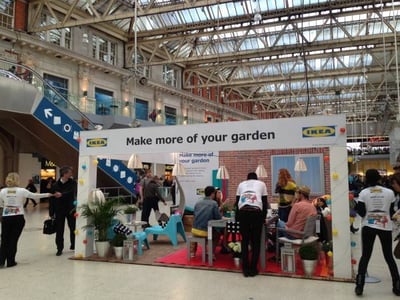 3. SOCIAL MEDIA INTERACTION
What better way to increase brand exposure and customer engagement than with social media channels? Here's your chance to connect with your fans, find out what they're saying and join in on the conversation. Unfortunately, that means handling the bad reviews, too. Turn a negative comment into a positive by responding as quickly as possible with a helpful answer or solution. Use social media as a public platform to provide great customer service, show appreciation and delight them. In the end, satisfied customers make good promoters. JetBlue Airways is known to be extremely responsive with their customers, whether the comments are good or bad. Delighting customers on social media can be a full time job especially when you aim for customer satisfaction and retention. Make sure you have a social media plan in place. JetBlue's strong Twitter game includes promptly addressing their frustrated customers, but also engaging with their happy customers with thoughtful replies.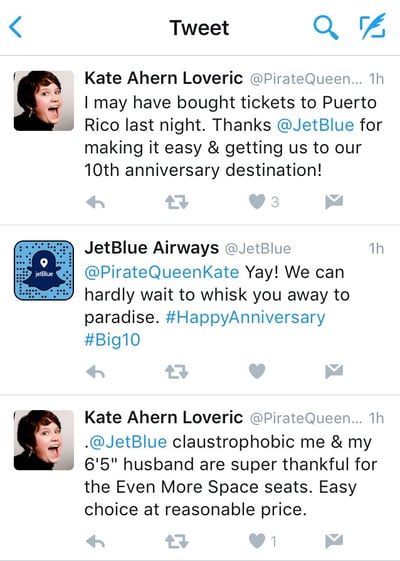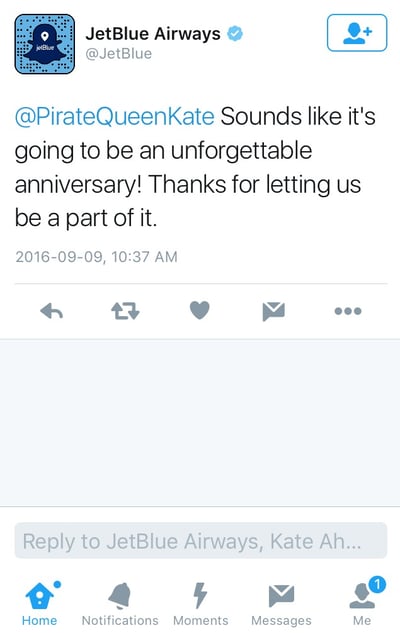 4. CONTENT ENGAGEMENT
Last but not least, continue to provide outstanding content. Cater to your customer's interests with advanced topics that will educate them to make the right decisions on the best purchases. Deliver relevant information involving tips and answers to their problems/issues, showing that your business is interested in taking care of your customers and not just making a sale. Your efforts will help build customer loyalty and trust towards your business.
Business blogging is a critical part of your inbound marketing strategy. Providing valuable content will attract high-quality leads and an increase in ROI. Ready to reap the benefits of business blogging? Get started with our free guide!