Terms like inbound marketing, digital marketing, online marketing, PPC and SEO can be confusing, especially if you're not engrossed in daily marketing activities. If you're looking to understand the difference between inbound marketing and digital marketing, we're going to break it down for you:
Digital Marketing
Blogging, pay-per-click advertising, social media marketing, search engine optimization and email marketing are all examples of digital marketing. These are tactics that work to solve short-term goals, such as boosting your online visibility or getting more traffic to your website.
Inbound Marketing
Inbound marketing is a strategy that uses best practices to create brand awareness and attract new business. It's about building trust, drawing qualified leads, closing sales and delighting customers. Think of inbound marketing as a methodology that uses digital marketing tactics to achieve a long-term goal.
[DOWNLOAD]
Here's an example:
When you're selling a complex SaaS product, you need to help your customers understand its capabilities and find ways to convince them that your product is worth investing in. By taking each of the digital marketing tactics and making them work together, you'll create an effective inbound marketing strategy that works long term to deliver qualified leads and boost conversion rates over time.
Blog: 7 of the Best Practices We Implements with our SaaS Clients' Websites
Digital marketing → Short-term goals that increase brand awareness
Inbound Marketing → Long-term goals that generate qualified leads and converts them to customers over time
According to HubSpot's State of Inbound 2018 report, 53% of marketers surveyed said that inbound marketing gave a higher ROI over outbound marketing.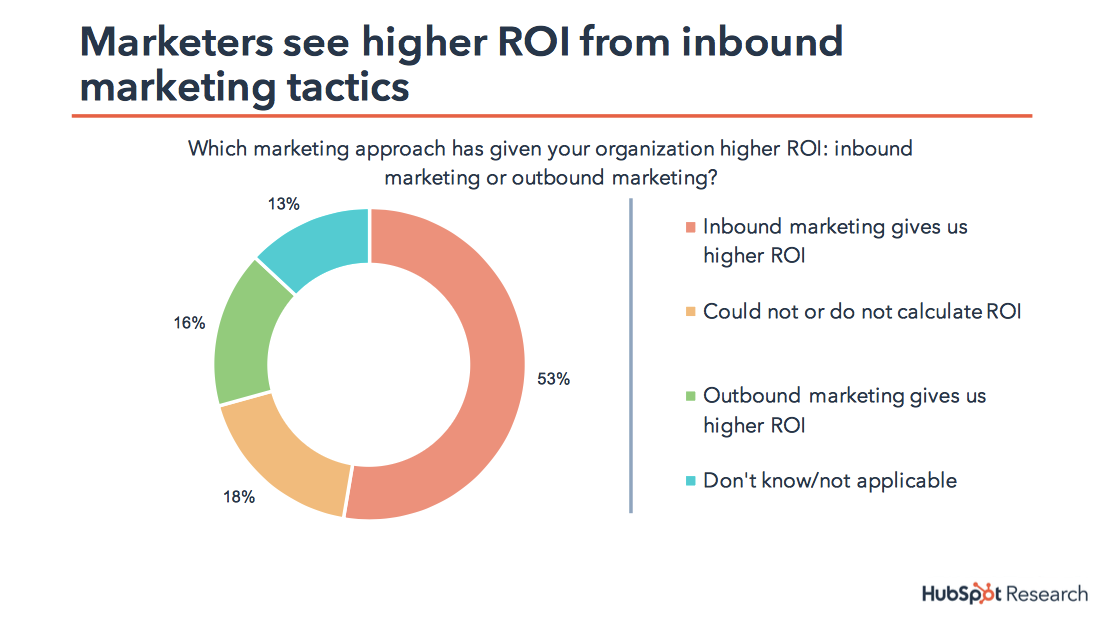 What Digital Marketing Tactics Can I Use in My Inbound Marketing Strategy?
Glad you asked! We've listed a few techniques you can focus on to compete in the world of B2B marketing. How much do you know about these to make each one work successfully? Let's find out.
Content Marketing
A lot of companies confuse content marketing as an opportunity to talk about their products and services. Your content assets (blogs, videos, eBooks, social media posts, etc.) are a big part of attracting leads and customers. So, it's important that you focus on creating relevant, educational and valuable content that addresses their problems or questions.
Social Media Marketing
No doubt you already post content to social media. How can you make your pages stand out from all the clutter?
In an article by Search Engine Journal, top experts on social media share important trends in 2019. According to one marketer, it's a good idea to provide your followers with more 'behind-the-scenes' stories. Another expert says LinkedIn should absolutely be part of your content strategy, saying "LinkedIn is evolving and making a huge push toward becoming an informative business content sharing and connection nurturing network."
Local Search Marketing
Use this form of optimization to make your business show up in relevant local searches, so that people can easily find you. A great place to start is by using Google My Business where you can have your listing show up in someone's Google search or maps based on their keywords. Its latest feature, Google Posts lets you temporarily publish helpful information about your business, like product updates, announcements and events.
Responsive Web Design
One of the most important parts of marketing is ensuring the best user experience across multiple devices, especially mobile. But what does it really mean to make your website responsive? Consider these best practices:
Your site should resize itself depending on the type of device used (phone, desktop, laptop or tablet

Optimize graphics and download speed

Make your call to action buttons a larger size for mobile

User large font sizes

Compress your images and CSS

Perform mobile testing
Of course, there's more where this came from. Videos, email marketing, SEO, remarketing and conversion rate optimization are other tactics you could leverage to achieve inbound marketing success.
How Do I Get Started?
The good news is, you probably have the digital marketing assets at your disposal to create an effective inbound marketing campaigns. Here are just a few examples:
Your website

Social media pages

Video (product demos, ads, etc.)

Written material (blog posts, eBook, white paper, testimonials, etc.)

Images (product photos, company photos, etc.)
Your next step is to sit down with your team and build a SMART marketing plan - specific, measurable, achievable, realistic and timely. Need help? Download our free template.